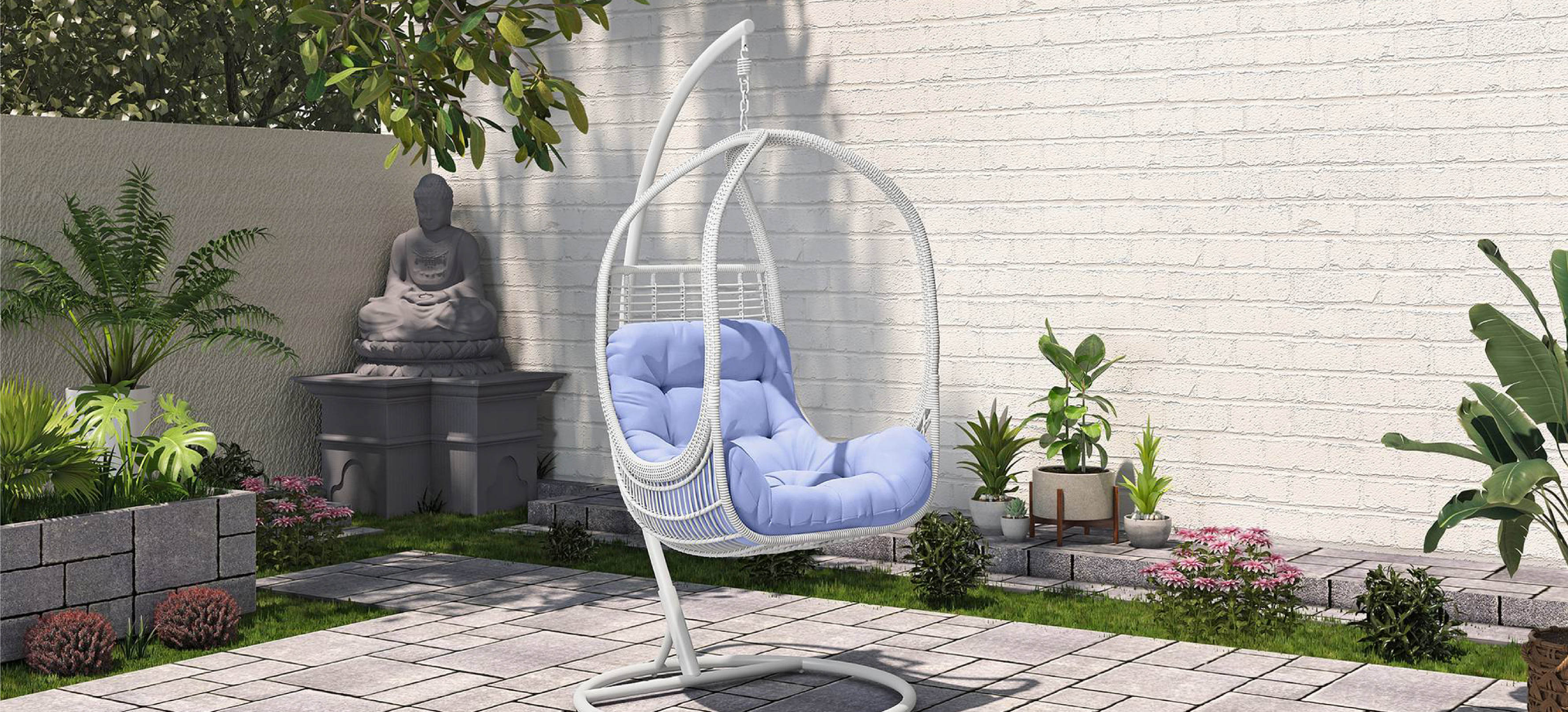 5 Types of Swing Chairs to Create a Relaxing Atmosphere
The motion of swinging and rocking yourself to achieve maximum relaxation has been a time-tested tradition, and swing sets aren't just for the kiddie playgrounds. In fact, a jhula is a staple in many Indian homes. While that is the local make and name of this furniture piece, the design itself has been diversified into many forms. They are an attractive decor accessory, as they can add that element of playfulness and charm to any room and not look out of place - as long as the aesthetics match. The rocking motion of such a chair is further supported by its construction which has a sturdy bottom allowing it to hold someone's weight upright. A swing chair for many of us, is even an extension of our happy and carefree childhoods, right from the subconscious memories of being cradled as babies! This makes them an ideal spot to enjoy life and nature and all of its little pleasures, in a nest of safety and comfort that feels instinctively familiar. Swing chairs also come in many materials and designs that are suitable for both outdoor and indoor environments depending on the category. With Urban Ladder's joyous, breathtaking collection and subsequent guarantee of a sturdy form, you can install a swing chair in your home easily!
List Of The Top 5 Swing Chairs In India
India has a long tradition of installing these swing sets, and it's a furniture phenomenon common across all of her culturally diverse residents. There are many facets to a hanging chair even though its basic function is quite simple. Modern innovation has not only expanded on additional features for comfort, it has done so while keeping the swing's ancient meditative properties. Here are five of the most popular options that desi citizens favor:
Jhula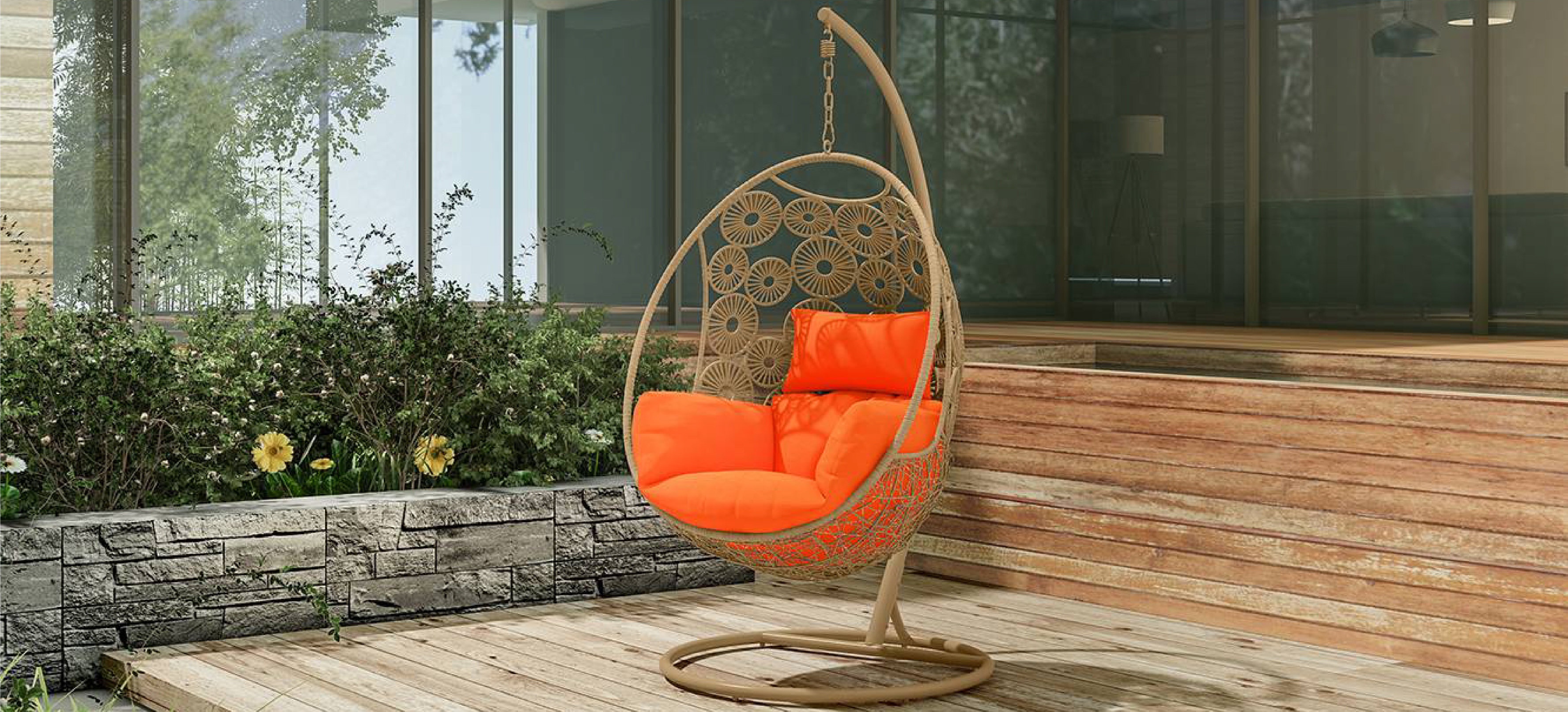 The jhula is the first thing that comes to mind when you speak of swing sets in India, and it's no wonder why - this piece of furnishing has been a part of our households since ancient times. They can be a seat held up to a ceiling beam with rope, or even a hammock-shaped cloth seat, and this versatility is what makes them so popular. Jhulas also come in intricate, rustically beautiful designs that give them a starring role in your balconies!
Swing Chair With Stand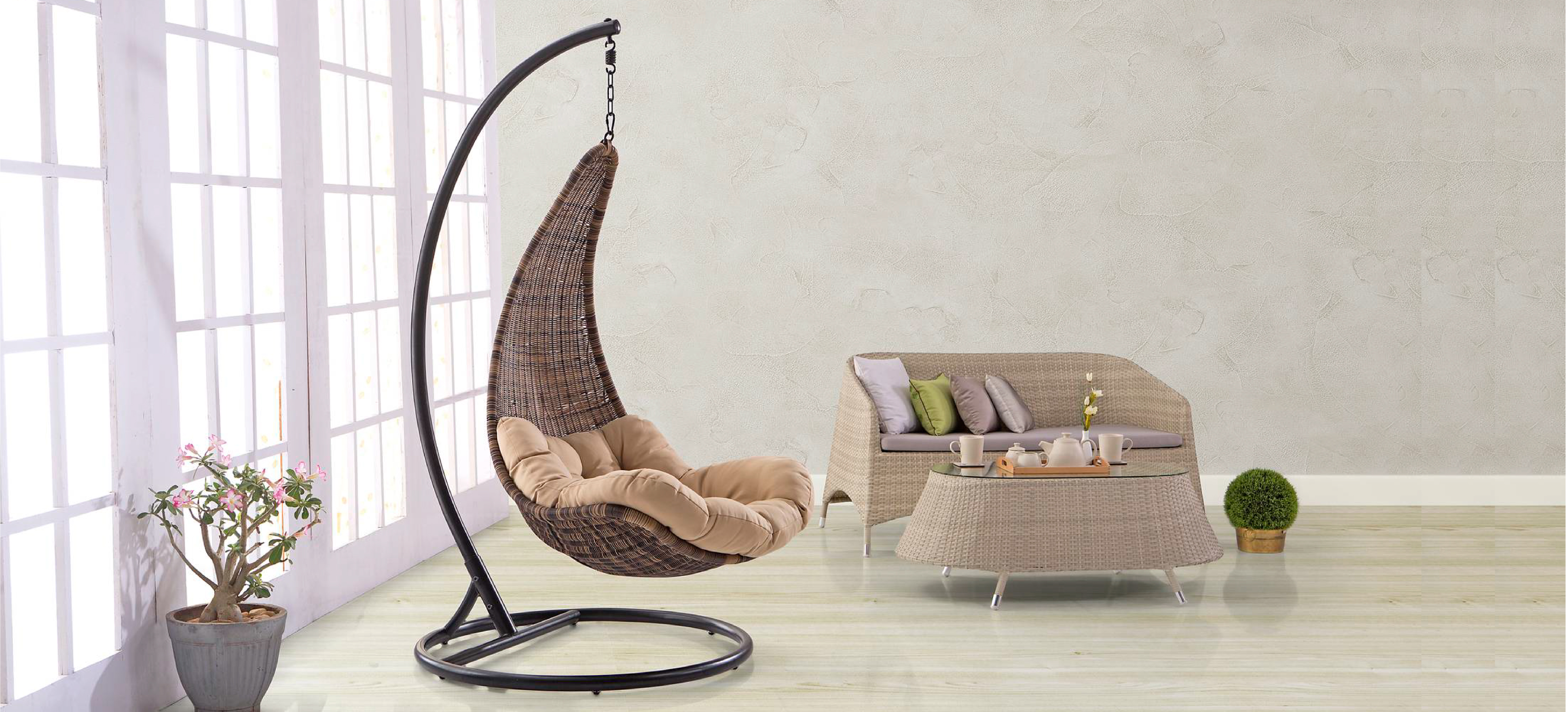 Many of us nowadays either cannot afford to drill and install a swing from the ceiling on rent, or just aren't interested in so much effort for a possibly temporary place. This is where a swing chair with stand comes to the rescue - it provides a bottom base, plus an attached beam that holds the chain for the sitting nook. This set is the one of the easiest to install in your homes, as the frame and seats are often sold separately and therefore lightweight to move around to your convenience.
Rope Swing Chair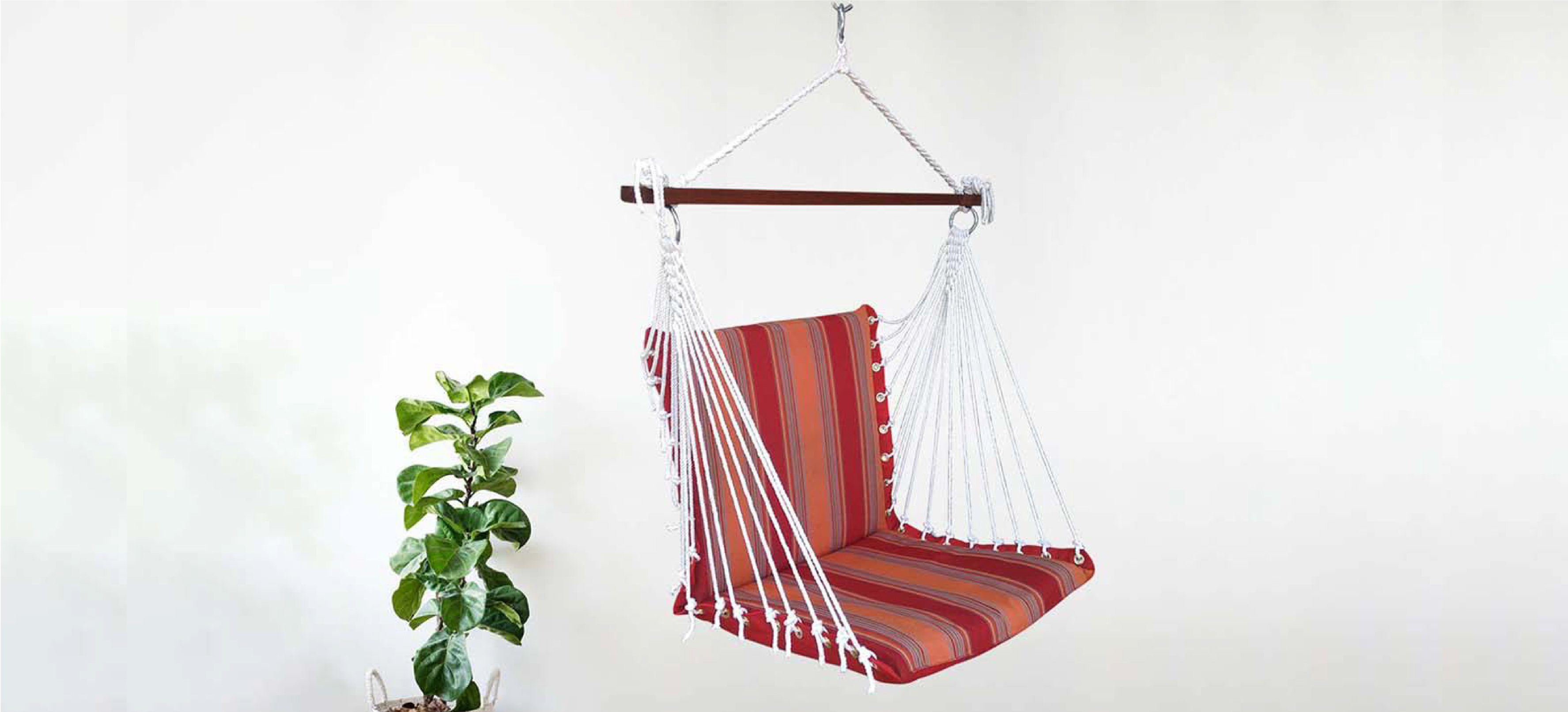 A rope swing chair uses both natural and synthetic fibres to maximize on comfort, textile strength, and breathability - while looking amazing with its plethora of prints! The swing can have either ropes just on the handles, or its entire set, including the seat can be woven to hold your shape while keeping you elevated. In case of the matter, the body is woven in a knotless pattern to avoid awkward bumps and allow you to lounge in premium coziness.
Rattan Swing Chair
Rattan, commonly known as cane, is an ideal material for outdoor furniture. The rattan swing chair is not only resitant to stains, UV pollution, and corrosion, it's also the perfect combination of hardy and lightweight. This makes it easy to move around your home. The best part is, even if the material does crack a little over time - a rare occurrence - it's easy to repair it through applying the homemade recipe of boiled linseed oil. Don't you just love a material that belies the need for refurbishing costs?
Hanging Swing Chair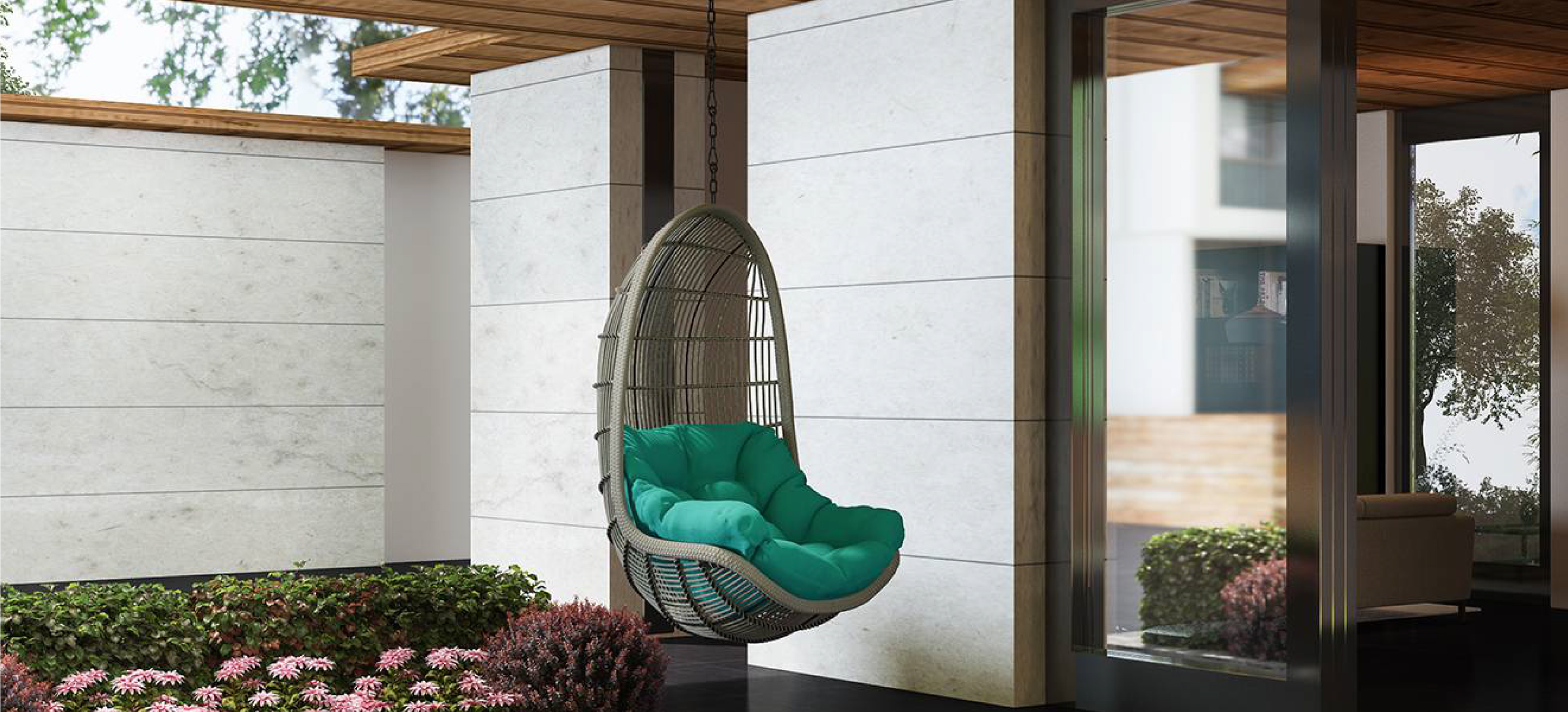 A hanging swing chair adopts the shape of a cocoon or pod, thus echoing a primitively human instinct to be cradled and swayed in an enclosed nook. This shape and design invokes a feeling of security and coziness, and a quiet solitude that borders on serene. These chairs often come with a frame, and those frames are famously unobtrusive and sleek in their form, keeping the round shaped seat to be the center of attraction and making it look as if it's really hanging from nowhere. This swing also allows you to pad every surface with cushions including the back, so it feels like you're truly lounging in the clouds.
How To Choose The Right Swing Chairs?
Choosing the right swing chair that is the perfect addition to your home requires planning for many factors. Since they are easily accessible to browse and shop from our catalog at Urban Ladder, your choice must be informed accordingly. Things like location and the material required for it, weight from the ceiling, or even adequate posture support are important in this venture:
Comfort And Support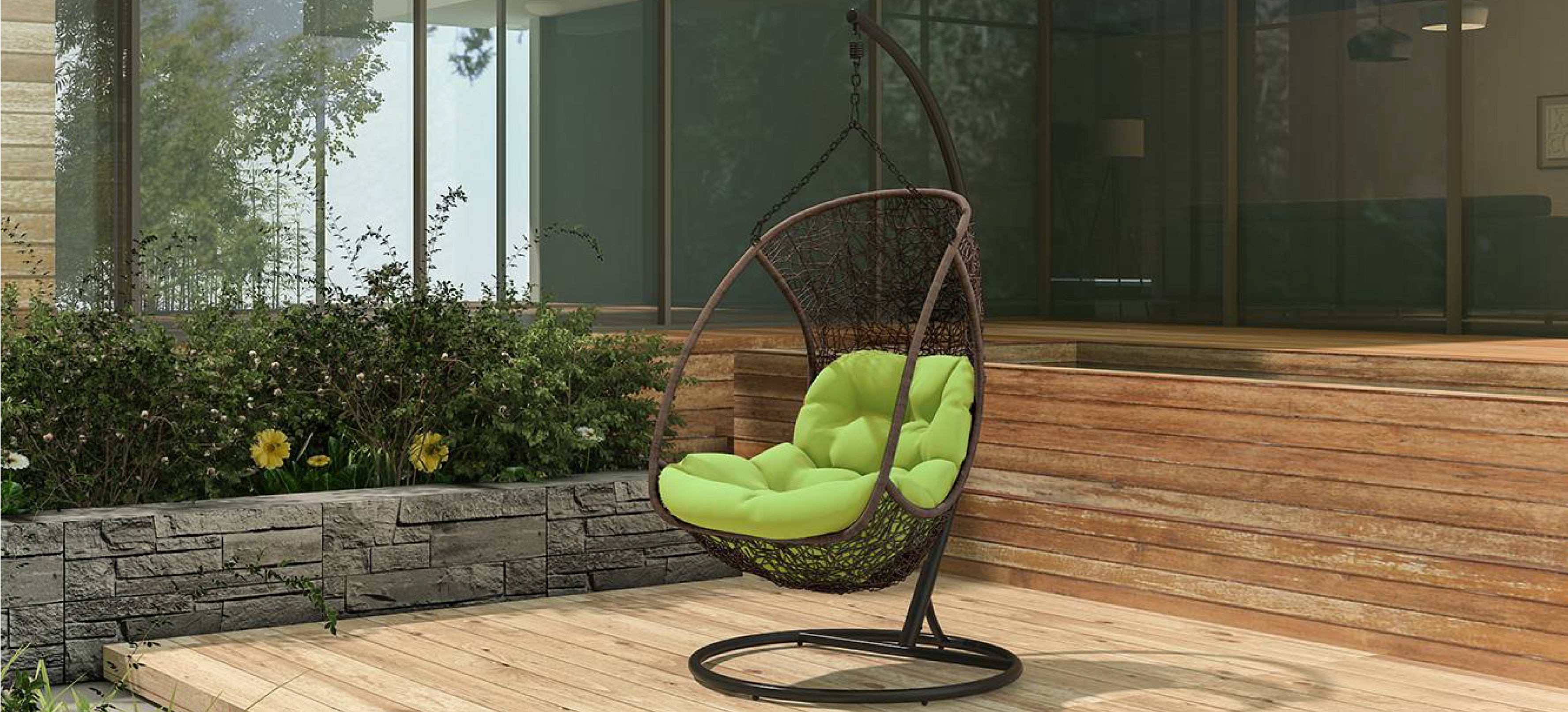 Your swing seat should be a place of comfort where your body can be cradled and rest to its maximum. In that vein, not only should your seat be adequately padded, it should also be tested for whether it can withstand heavier movement. Oftentimes you might not want to just sit idle in it, but also actually swing to exercise your motor skills, and your swing should accommodate that comfortably for a seamless experience.
Size Does Matter
Your swing chair size may consist of several different factors including the dimensions of the seat, height of the chain or handles, the length of the beam, and so on. A lot of these factors also change depending on the design you purchase. It is recommended to visit in person to test out the swing before committing, but in cases of online shopping it's not an impediment - you can still measure out the space in your house you intend to install the piece in, and choose accordingly.
Suitable For Any Place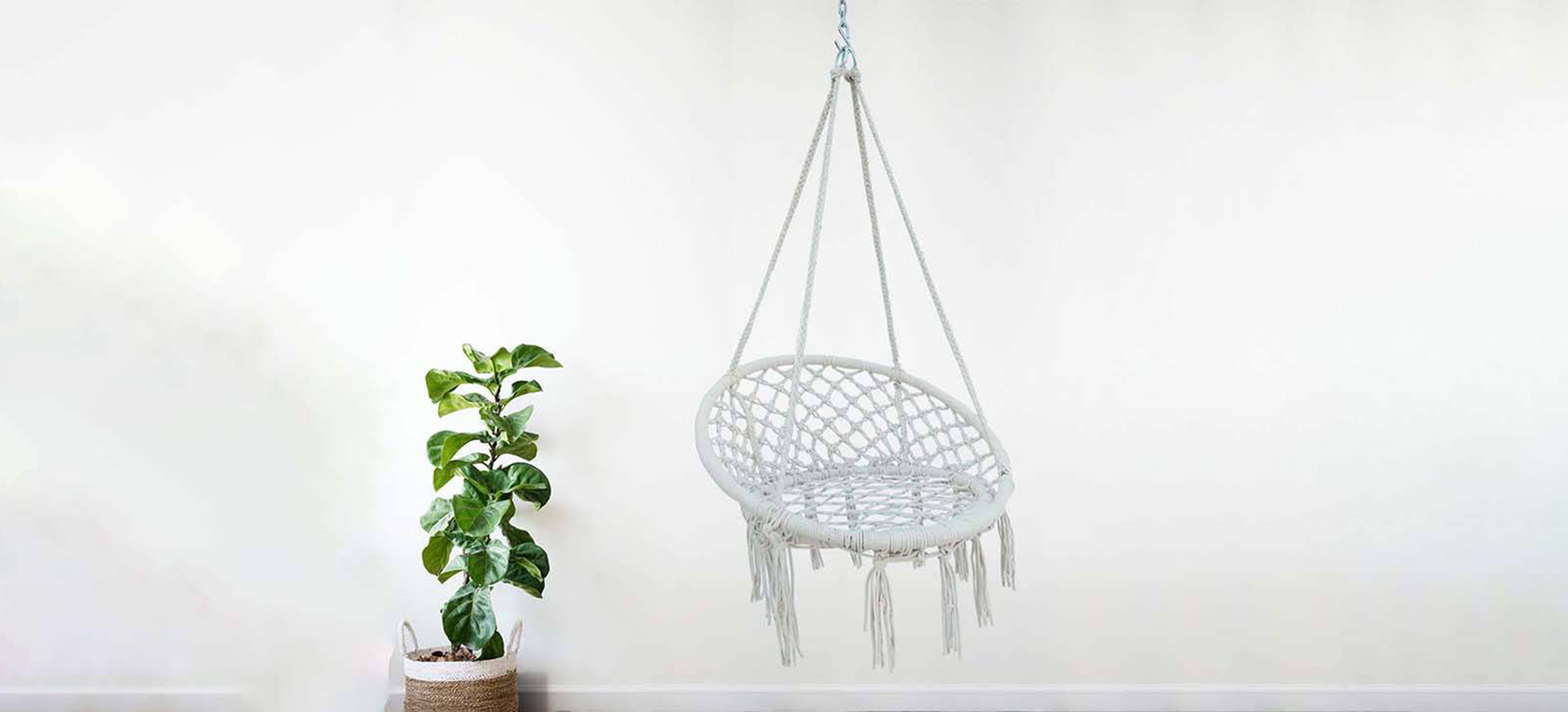 The best thing about swings is that their vast range of designs ensures you have a model for any kind of space in your home, whether it be indoor or outdoors. The only thing left to consider is the design and material of your purchase accordingly. For example, a hanging chair for balcony will require a sturdy material like rattan to withstand the weather, whereas your living parlor may be softened with a richly patterned rope swing. To avoid hassle with installing hooks and whatnot into your ceiling, you may even strive for modular options that come with a stand.
Weight Tolerance
Before installation, it is recommended to either test in person or calculate remotely the weight of your body in accordance with the swing. The chain and the frame should support the weight of anyone in your home, so it's also good to calculate an average. Typically, a weight limit is mentioned within the details for every one of our products, but it is as the saying goes - one size fits all is often a myth, and it's best to get a home interior expert's recommendation. Your safety is paramount when you're elevated like that, and your swing should protect that.
In Conclusion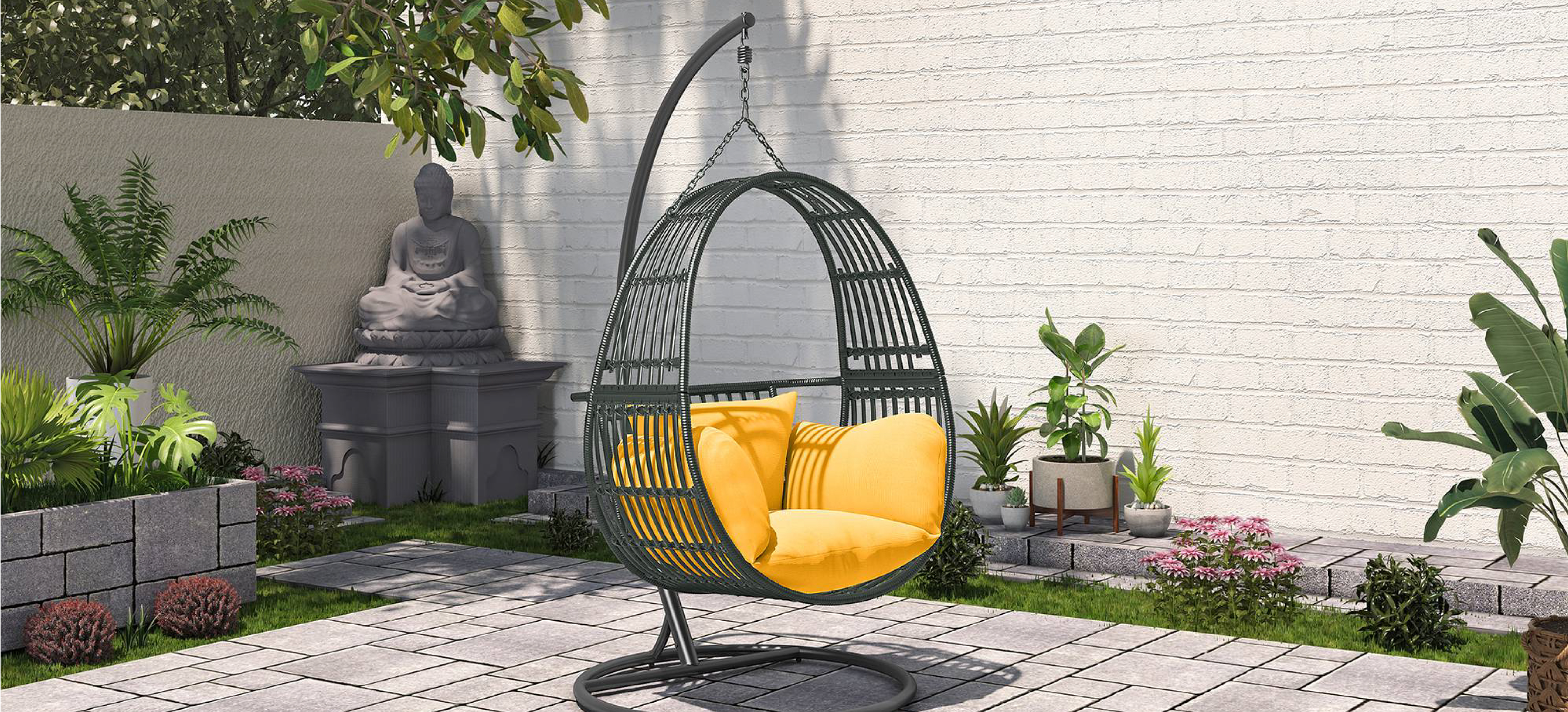 Your swing chair provides you comfort and an effortless aesthetic that can fit seamlessly into any home decor you install it amidst, but there are so many other benefits as well. It enables body awareness due to its occupants relying on and shifting according to gravitational pull. It also encourages you to develop motor skills and coordination when actively swinging, as several muscle groups are engaged at once - therefore a swing set is a must have if you have children, to help start early! Plus, a hanging chair at home means their playtime wouldn't be over the moment they come back from the playground. This is all in step with the most important factor of stress relief, whether you're swaying or actively rocking, the motion of your swing enables an almost meditative state that feels like you're cuddled in the clouds. With our innovative and aesthetically magnificent range at Urban Ladder you're sure to find the perfect swinging haven for your home.
FAQs
Which Swing Chairs Are Best For Home?
It is recommended to choose the correct material and form based on the location in your home. Swing chairs come in a variety so any of them are a good fit for your home as long as you take the mentioned factors into consideration. A swing chair with stand made of rattan is said to be the most versatile since it can be put anywhere, indoors or outdoors.
Are Swing Chairs Good For Adults?
Yes, of course! Age is no barrier to wanting to exercise your hamstrings, or desiring some prime 'me time' relaxation - therefore a swing chair is usable by people of all ages. In fact, with the busy lives we often lead in adulthood it's even more recommended to relax on something as soothing as a swing.
Which Swing Chairs Are Best For A Balcony?
A rattan swing chair is the best option for your balcony material wise, since it's perfectly suited for the outdoors for its weather and UV resistant properties. On that note, a jhula set is just as suitable since it comes in a versatile range of forms, and their traditional designs will add a touch of nostalgic elegance to your backyard!
Do Swing Chairs Have A Weight Limit?
They do, and these weight limits are always mentioned either in the listing itself, or during the choosing process. It is good to calculate this factor according to the average weight in your household if you have a large family, but especially if you're planning on installing a swing set from your ceiling.
You May Like These