URBAN INTERIORS
A home is much more than a space. It is the feeling of peace, safety, joy, and love, where everything feels right. We're into transforming homes so that it becomes an extension of you - familiar and loved. We're bringing the Urban Ladder brand experience into your home in a way that is designed and crafted in excellence.
Free Design Consultation!
Book a consultation with our expert team to get started on your dream home

Thank you!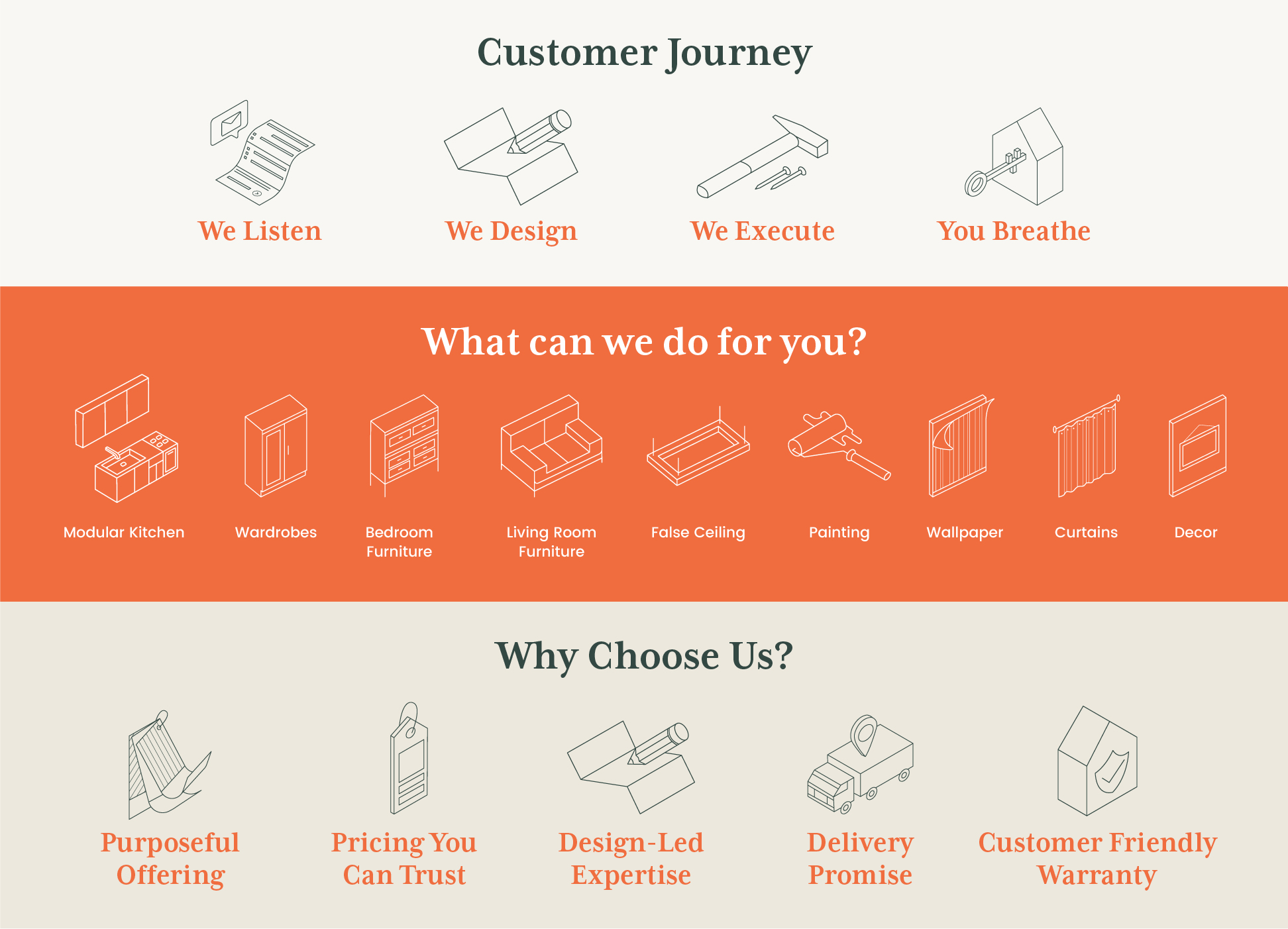 Urban Interiors at Home
At Urban Interiors, we design and customize your space to make it feel like home. We ensure it is perfectly suited to your needs and customized to make it your 'happy place'. From sprawling villas to tiny studios, we can help you transform your home into the one you've always dreamt of!
We can make your dreams come true.
Frequently Asked Questions
1. Who are we & What do we do?
We are one stop solution for your full home design and execution requirements. We offer personalised designs, aesthically beautiful and functional catering to all your home interior requirements. All things at your home, literally! Our Brand Offerings include, but are not limited to - Modular Kitchens & Appliances, Wardrobes, TV Units, Crockery Units, Sofas, Beds, Dining Sets, Curtains, Decor & Soft furnishings & Services like False Ceiling, Painting, Wooden Flooring, Wallpapers and much more. To know more, please reach out to us & we'll have our expert Design Consultants speak with you.
2. Already Visualising your Dream Home, Want to know about how to Start ?
Here's a quick snapshot of the process:

Connect - Fill in the form for an assured call-back in 24hrs or less. Get a personalized quick price estimate FREE of cost.
Deconstruct - We delve into the details of your requirement at your convenience. Experience the power of possibility by visiting our Experience Centre to see what we have on offer.
Design - Our Designer converts your requirements, dreams, and conversations into a detailed Design Proposal, after which we can progress the project with just 5% booking amount.
Conception - Our project team begins work based on the designs you loved.
Construct - With the designs tailored to your home, we move into the production and execution phase. We keep you informed through the process and you will never have to ask, "What's happening?"
Handover - With the site ready and installations done, your promised dream home is ready for you in just 45 days.
3. What if I already have furniture that I want to use?
Well, that's really an important piece of important information to us. Usually, our Designers keep that in consideration while designing your home. At the same time, since we care to make your home really beautiful, our Designer will always advise you what's right for your home keeping the overall design aesthetics in mind - be it choosing a new furniture or retaining an existing furniture.
4. How long does it take from Proposal to Completion?
Well, we are really quick. Though creating your dream home doesn't happen in a snap, and we'll take the time to help shape your ideas to your satisfaction. However, once you finalize on our proposal and book with us by paying 5%, here are the next steps to completion:

a) Design Finalization - The detailed design finalization usually takes about 4 weeks, however we can speed up the process, basis your preference and availability.
b) Execution - We help you move in your Dream Home in just 45 days according to the finalized design as beautifully as you envisioned. At Urban Interiors, we assure you that we will deliver what we promise. "What's happening" is a question that you will never have to ask us.
5. All that's fine, but what if I don't like the design proposal?
We are confident about our expertise. You would absolutely love what we offer. However, if you don't warm up to our designer's suggestions, you can simply let us know that you don't want to go ahead with the proposal, and we can part ways, with no hard feelings.
1. How long does it take to deliver everything?
Straight to your Home - Everything in flat 45 Days. We would stay true to our promise and our communication with you would be as transparent as much you trusted us.
Payment Terms - 1 - 2 - 3
Booking Amount: 5%
Order Confirmation: 45%
Right Before the Delivery: 50%
Warranty: 10 Years*
We offer upto 10 years of warranty depending upon the products.
1. What if I want to cancel the project after paying 5% booking amount?
We're sorry to see you go. However, The booking amount is non-refundable but can be adjusted against some product purchase from Urban Ladder.
2. What if I want to change the design mind once the order is confirmed?
We understand that, however you can reach out to your Designer within 24 hours of order confirmation to make any changes. Post that, we would not be able to accomodate any changes
3. What if I didn't like the final product delivered and want to change?
We're sorry to say but final product would only be replaced but not changed in case it is damaged, hence we would replace it absolutely free of cost.