The Essential Guide To Choosing - And Using - A Console Table
Often underused and overlooked, the console table is a delightfully versatile piece of furniture. The entryway – where this slender, long table is usually propped – is just the tip of the iceberg. It can actually be added to any space in your home, and is endlessly adaptable. Use it to fill up empty space, draw attention, detract and accent. The right console table also combines the best of both worlds – style with utility.
WHICH IS THE RIGHT TABLE FOR YOU?
Step 1: Zero in on the location
The type of space available will dictate your choice of table. Tall, low, narrow, shallow – find the type that blends in with the space available. An ultra-slim console table fitted into the wall is a great space-saver. If the room is wide and open, opt for a more sizeable, sturdy table.
Step 2: Figure out the function
Console tables are flexible, multipurpose wonders. Figure out what you want to do with yours. Pack storage space, decorate, act as an accent table or play room divider? Choose accordingly.
Step 3: Match table to room decor
Contemporary, minimalist, colourful or ornate? Console tables come in countless styles, materials (and budgets). Pick one that sets the right visual tone for your home.
Bottom line: make sure it works well with the decor of the room. While it can make a statement, it shouldn't be a misfit. Heavy, carved wood in a sleek, modern space, would be a no-no, for instance.  
THE MANY WAYS TO USE A CONSOLE TABLE
Console tables can hold their own in any room. Keep your options open and play around.
Entryway or hallway:
Placed in the foyer, the console table is like an opening statement. Couple it with a mirror to add light and a touch of sophistication. Or use the table as an anchor to display a dramatic piece of art. Functionally speaking, it is an unobtrusive storage spot to dunk your keys and small change, and stow umbrellas below.

Living room
A decorative console table works well here. Dress it up like a side table, and create an interesting visual vignette with curios. Lamps and console tables go hand-in-glove. A well-known trick is to place a lamp on either side of the table for balance and symmetry. Use the space underneath as a bonus display area for bric-a-brac or as a nook for your books.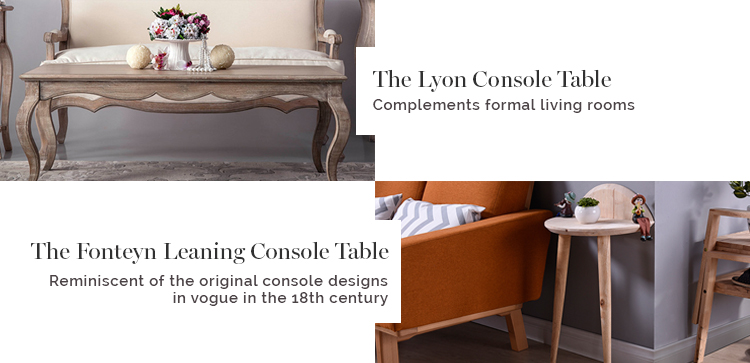 Dining room
Perched next to the dining table, it functions as a sideboard of sorts. Place food and crockery on it or convert the table into an impromptu bar when you have guests over. Pick out a console table with a shelf or drawers. Add drawer dividers to store serve-ware and cutlery.

Bedroom
Use the console table as a stylish nightstand for your bedside books and reading lamp. Place wicker baskets below, and it becomes an elegant space to store linen. Pair it with a mirror, and it turns into a dresser.

If you live in a small apartment and have no place to room to spare, don't despair. Opt for a pared down, wall-mounted console shelf. It offers just the right amount of display and storage area, without eating into space.

You May Like These