An Ode to Pink This Women's Day
Pink. The man's man reacts to the word much like a vampire would to the sun. And why shouldn't he? We've grouped and typecast all things pink under the hairy F word  - 'feminine'. It's so frustrating to see this versatile colour get thwarted simply because of its association with the fairer sex that it compelled me talk a little about it. Honestly, pink can be so sophisticated when paired and used properly that it could give navy a run for its money. So today, let's try and rethink pink.
Reason #1 to love pink: It's cheaper than therapy
Pink is essentially red, softened by white. It's visually soothing, and alleviates feelings of anger, aggression, resentment and neglect. In one study, extremely violent prisoners kept in a pink room seemed to get a hold on their anger issues. And because the colour is said to have a tranquilizing effect, sports teams sometimes paint the locker rooms of their opposing teams pink to up their own chances of winning. So yes, if you have a high-stress job and need something to calm your frayed nerves at the end of a stressful day, don't reach out for a drink. Instead, just snuggle up to a pink quilt or something.
Reason #2 to love pink: It's sexy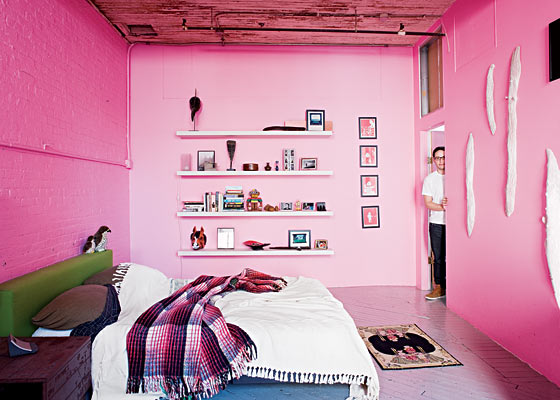 Think pink and you inevitably end up thinking of a teenage girl's room. Or worse, Candyland. But done right, pink can also make a statement. Take a cue from David Alhadeff's bachelor pad for a start. The creator and founder of Future Perfect, Alhadeff's home boasts an unapologetic pepto pink and oozes style. There's also design star Antonio Ballatore who's got a mural of a photo taken at a Slayer concert in his TV room, and a pink wall with a pink bird in his kitchen. If some as alpha male as Ballatore can work pink, so can you.
Reason #3 to love pink: It works in quantities large and small
If we still haven't convinced you about pink, how about just testing the waters? While an entire room in pink can look absolutely fantastic, you don't have to go the whole hog if you're not ready. Instead, start with one bold piece. Like a pink rug. Set against a more neutral-coloured backdrop, it can create a stunning effect! Or, if you are a minimalist and like nordic homes, how about a pink accent chair in an all-white room with just a corner lamp for relief? With a setting like that, no one will judge you for having a penchant for pink.
So this Women's Day, go embrace your feminine side with a touch of pink. Hopefully you'll realise that both the colour and the gender are absolutely lovely :)
About the author
Rukmini blogs at trumatter.in and lives her beach house dreams inside her Mumbai city apartment, one DIY project at a time. It all started out as a journal to record her everyday life in Mumbai and little décor projects that reminded her of her home back in the hills, and soon went on to be recognised as the best blog in India for design category. Her style is predominantly ocean - inspired and shabby - chic with a jumble of vintage. Believes that good living doesn't cost much, and uses her home as a canvas to share her DIY home décor solutions and tips.
You May Like These