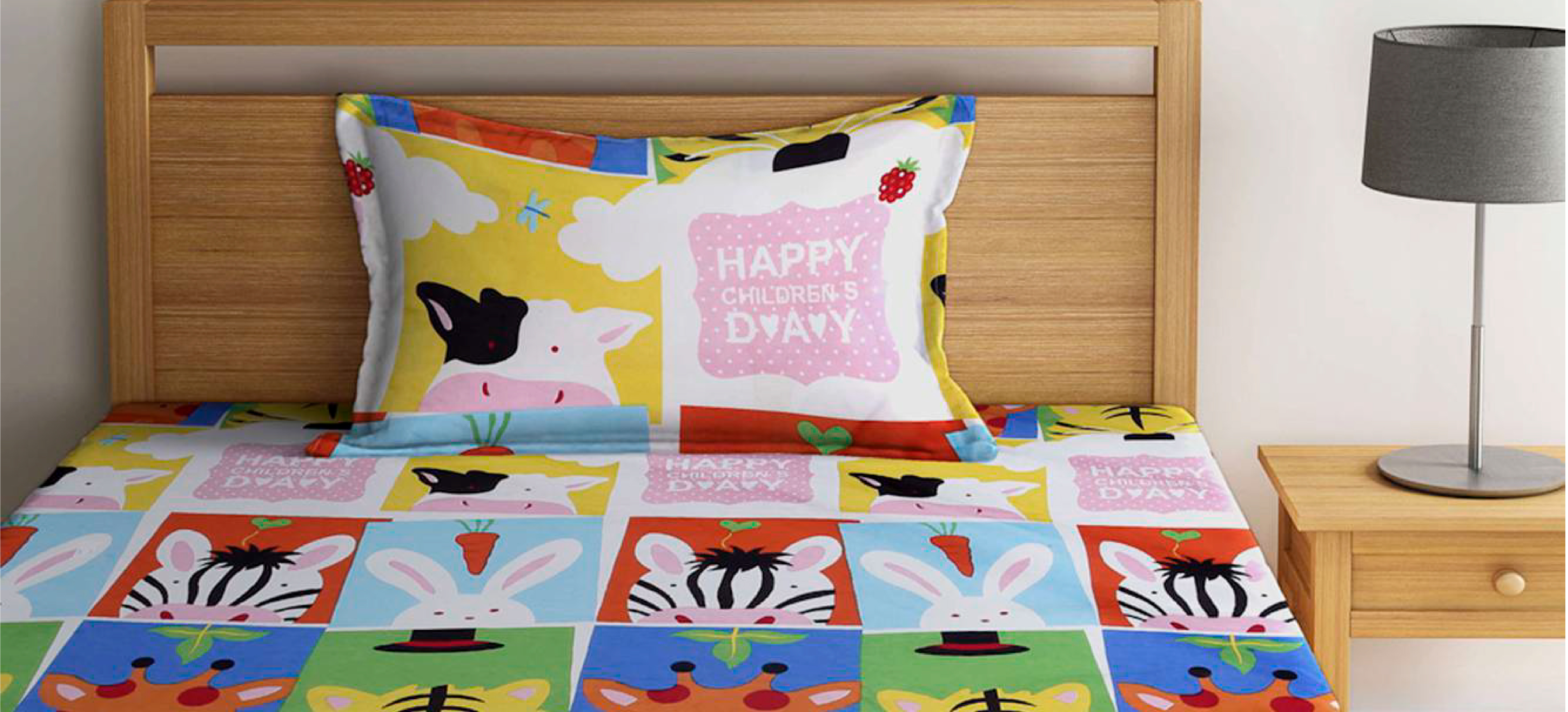 4 Tips to choose the right bedsheet for your home
The bed sheet you choose is a big part of making your room look nice and make you feel good. From deciding on the perfect color to finding the right fabric that suits your needs, choosing an ideal one can be a difficult task. The right bed sheets sets can affect your mood and the quality of your sleep, in addition to the room's overall aesthetic. The task of picking the ideal bed sheet for your bedroom doesn't have to be difficult.
Top Ideas To Choose The Perfect Bedsheet For Your Bedroom
Finding the right bed sheet for your home can be challenging, as there are so many different styles and materials available. With thousands of options to choose from, selecting the best one becomes an exhausting task. When choosing the ideal bed sheet for your bedroom, it's important to take into account not only the size of the bed but also the materials used, the type of weaving, and your personal style. This is where Urban Ladder can save you a lot of time, we have a variety of designer bedsheets to suit your need.
Here are some tips to help you select the perfect bed sheet for your bedroom.
Choose The Right Fabric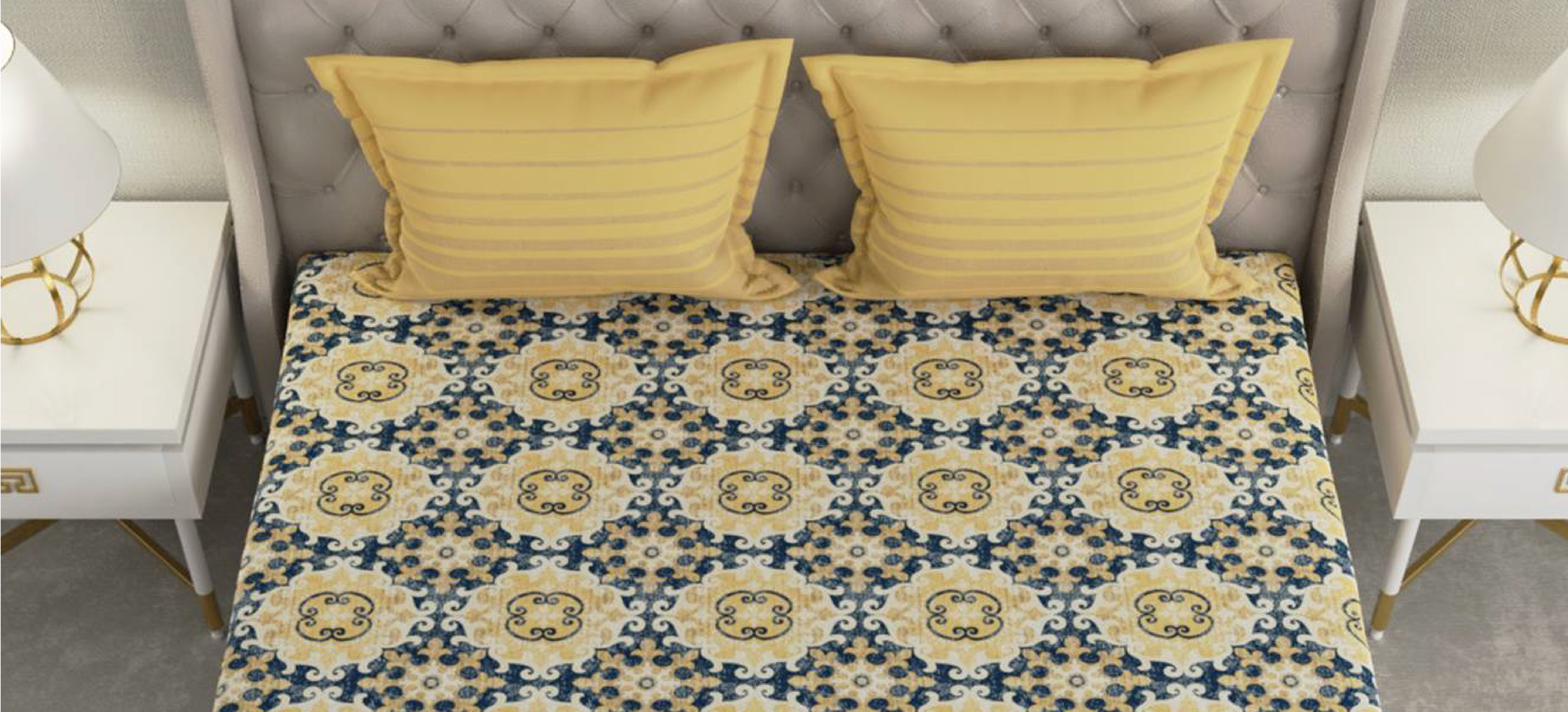 Choosing the proper fabric is the first step in selecting your ideal bedsheet. Cotton is a popular choice because it is soft and breathable, while linen is durable and has a different texture. Other options include silk, flannel, and microfiber. Consider factors such as climate, personal preference, and allergies when selecting a fabric. Your choice right bed sheet sets and sheet material can have a significant impact on comfort and durability.
Look For The Thread Count
The thread count of the bed sheet is equally as important as the fibre content. The thread count of a sheet is the number of threads per square inch that make up the fabric. A cotton bed sheet design with a proper thread count is a great option to choose from. It may significantly affect how the bedsheet feels and is made overall. A sheet with a higher thread count is typically softer and more durable. However, it's important to note that a higher thread count does not always equal good quality. Look for bed sheets linen with at least 200–400 thread count, but with consideration of other factors too. Urban Ladder provides a wide variety of bed sheets to choose from.
Choose Between Percale Or Sateen Weaves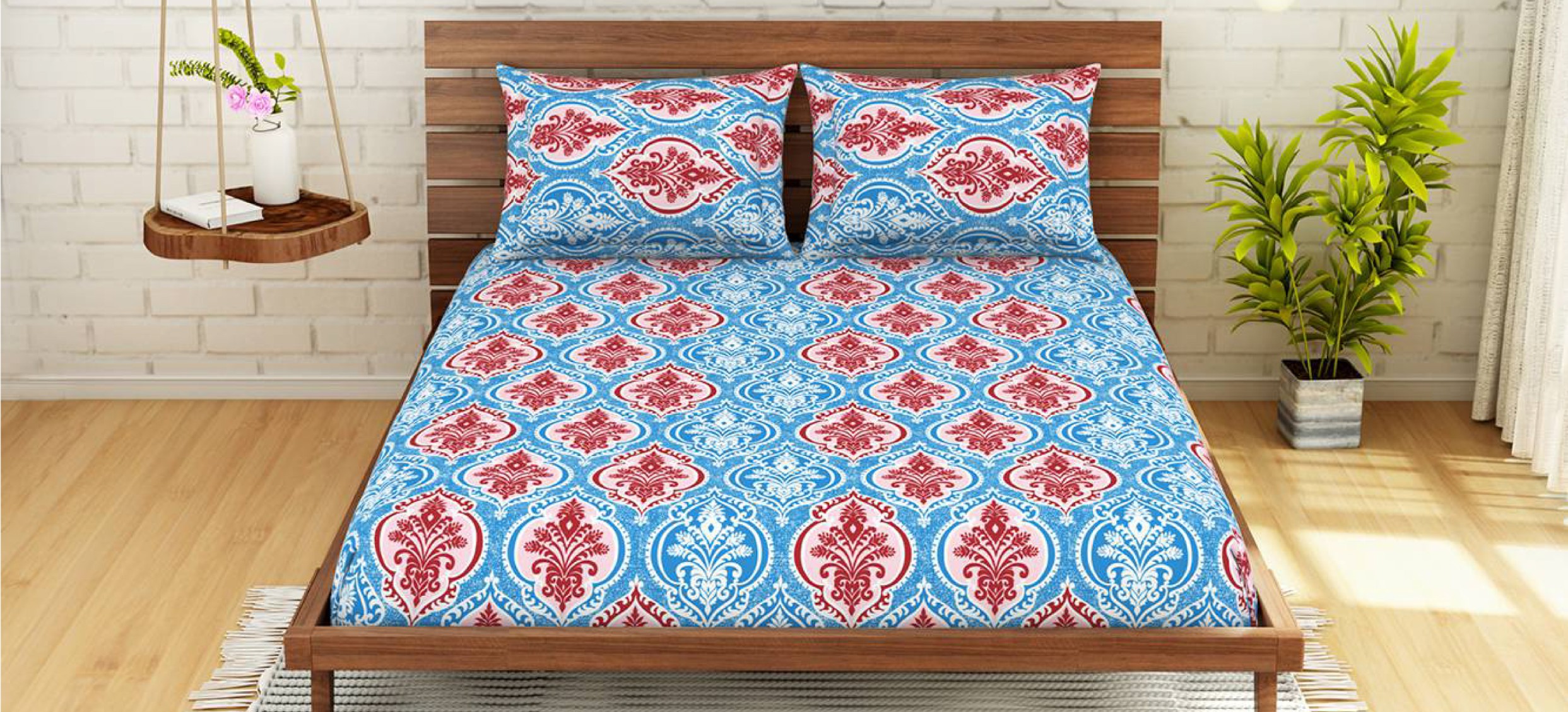 How a sheet is woven can also affect how long it lasts and how comfortable it is. When choosing the weaves, one should consider the desired comfort and feel, along with the durability of the sheets. Sheets with a percale weave are best known for being cool, breathable, and light. Conversely, sateen weave sheets are a great option for people who want something that will last longer because they tend to be a little bit thicker and more robust than percale sheets. For those looking to add a touch of luxury to their bedroom decor, sateen weave sheets can be an excellent option.
Pick The Right Pattern That Aligns With Your Bedroom Decor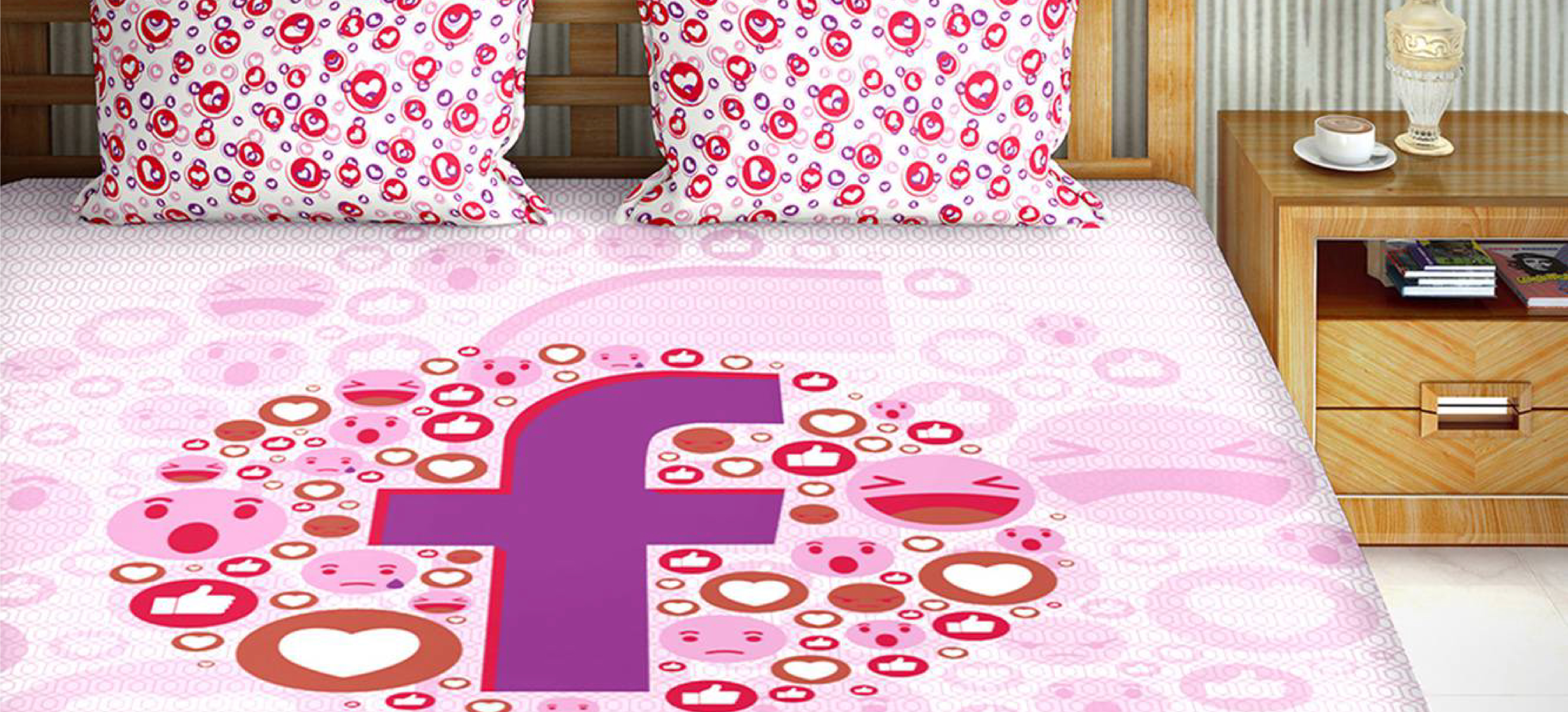 Bedding is both useful and pretty, so choose a pattern that goes with the rest of your bedroom's style. The right bed sheet color combinations are important for maintaining the aesthetic of your bedrooms. Solid colors or simple patterns are the best choices for a more minimalist look. The right bed sheet decor can accentuate the look of your room. If you want to go for a bold look, go for darker shades like red and navy blue. The modern bedsheet design from Urban Ladder is a wonderful stack to choose your vibe. If you want a cool and calm atmosphere in your bedroom, cooler shades or neutral colors are a good choice. Urban Ladder has a variety of new bedsheet design to suit your every need.
Takeaway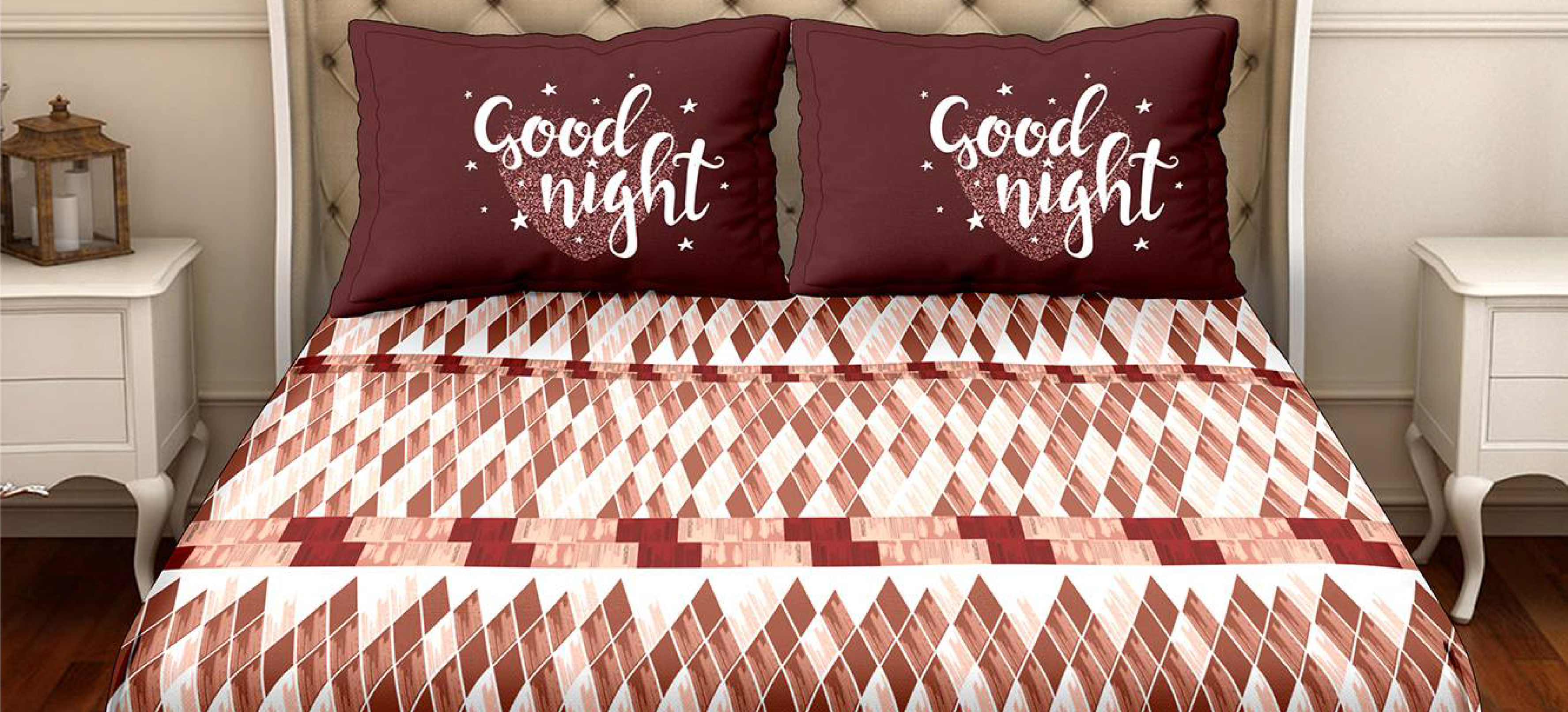 Finally, selecting the right bed sheet is an important decision that can affect the overall comfort and appearance of your bedroom. You can choose a sheet that not only feels good but also looks good in your bedroom by considering factors such as fabric, thread count, weave, size, and pattern. Urban Ladder has a variety of bed sheet ideas for bedrooms to choose from. In addition to these suggestions, you should think about the size of the bed sheet, whether it is fitted or flat, and what size you need for your mattress. It is also a good idea to invest in easy-care sheets, such as those that are machine-washable, wrinkle-free, and hypoallergenic. Investing in a high-quality bed sheet can make a significant difference in the quality of your sleep, so take your time in selecting the best one for you.
FAQs
What Color Bedsheet Is Good For The Bedroom?
Go for the colors that align with your bedroom decor. If not sure about what color would suit best in your bedroom, then stick to neutral shades like blues and greys, as they go will mostly everything.
What Is The Coolest Bedsheet Material?
Fabrics like silk and cotton are nice options when looking for a cooling bedsheet. In general, the cotton bedsheet is your best choice as they are more breathable and cool. A cotton bed sheet with percale weaving would be a great choice for the coolest material.
Is It Better To Have Dark Or Light Sheets?
It depends on the amount of light and the aesthetic you want for your bedroom. If your bedroom is well lit then any color would work well. If you are going for a bright and breezy aesthetic then bright colors would work best.
How Many Thread Count Is Best For Sheets?
Generally, the thread count for a good bedsheet is considered to be 200-400. But the quality and durability of a bed sheet also depend on other factors like fabric and weaves.
You May Like These