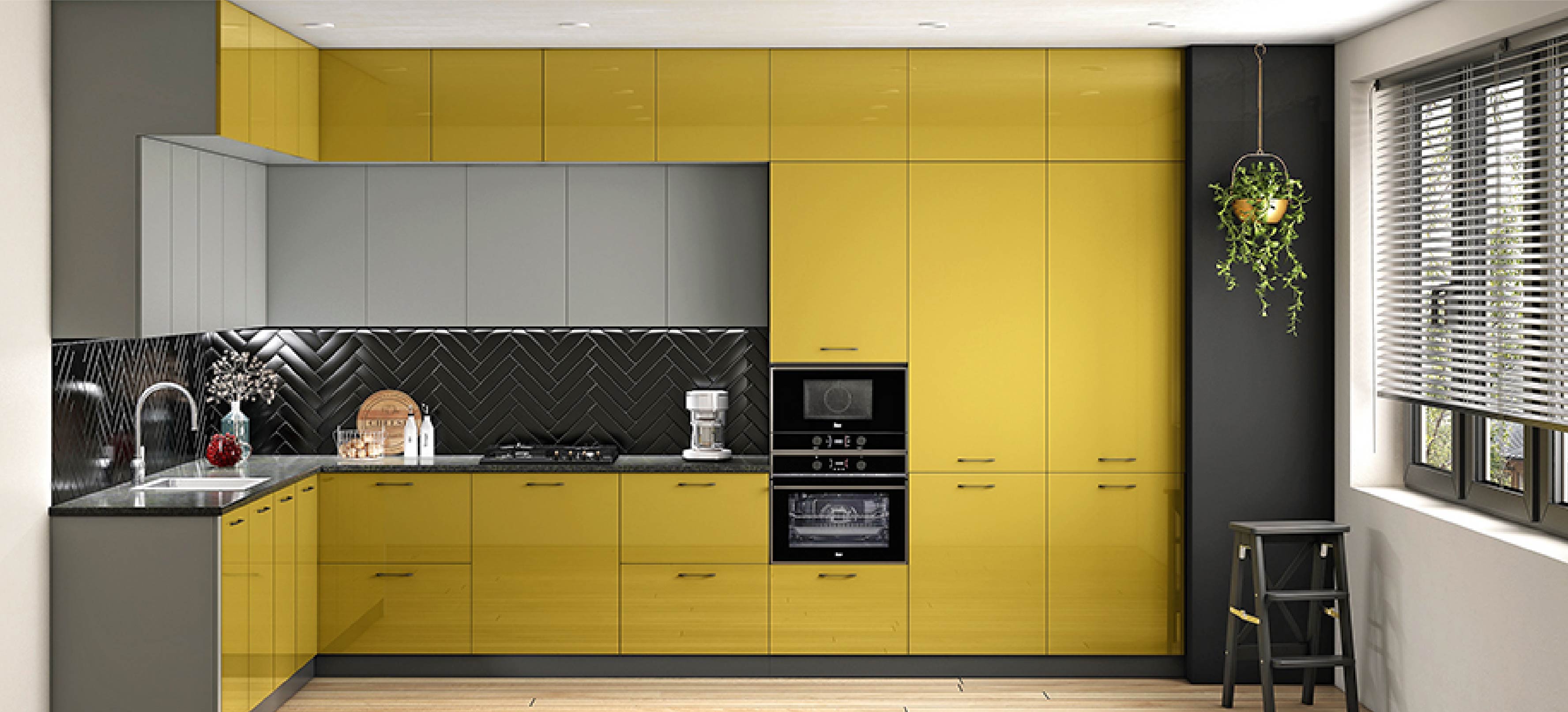 Advantages of choosing the L shape modular kitchen
Well-thought-out kitchen layouts ensure that the space is practical for preparing food and cooking. A kitchen that isn't functional is just annoying to use and isn't something that can be easily or affordably remedied. This is why tried-and-true patterns have lasted the test of time, like the modular kitchen design l shape. It consists of two parallel walls with two counters and inventive above and below cupboards to match the open concept. It is straightforward and practical. Countertops and cabinets are positioned to enhance the design's overall aesthetics and organize the workflow. The l shape kitchen designs length is determined by the size of the kitchen and its walls. The shape offers a tonne of storage and mobility without feeling excessively constricted. Modular kitchens in an L shape thus make effective use of space and are easy to use. A few l shaped kitchen advantages are listed below.
Maximize Space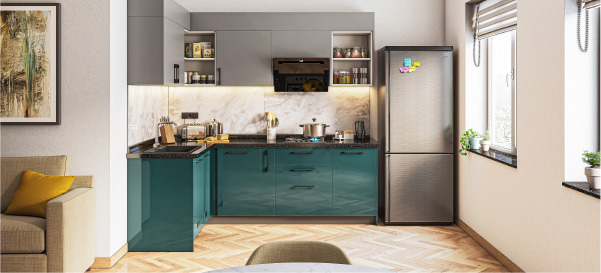 Many people who live in small areas are most concerned with making the space look bigger than it is. Installing a modular l shaped kitchen layout is one of the finest solutions in these situations because these kitchens are compact but give the impression of being large. It offers a substantial floor area and enables optimal space utilization. Modern L-shaped modular kitchen designs are perfect for a warm and pleasant eating area since they minimize traffic while still giving the cook ample space to work (who can still enjoy interacting with guests). If you're fortunate enough to have more space, you could even expand your L-shaped kitchen by adding more counters or a small dining area.
Allows Multiple Cooks To Work At The Same Time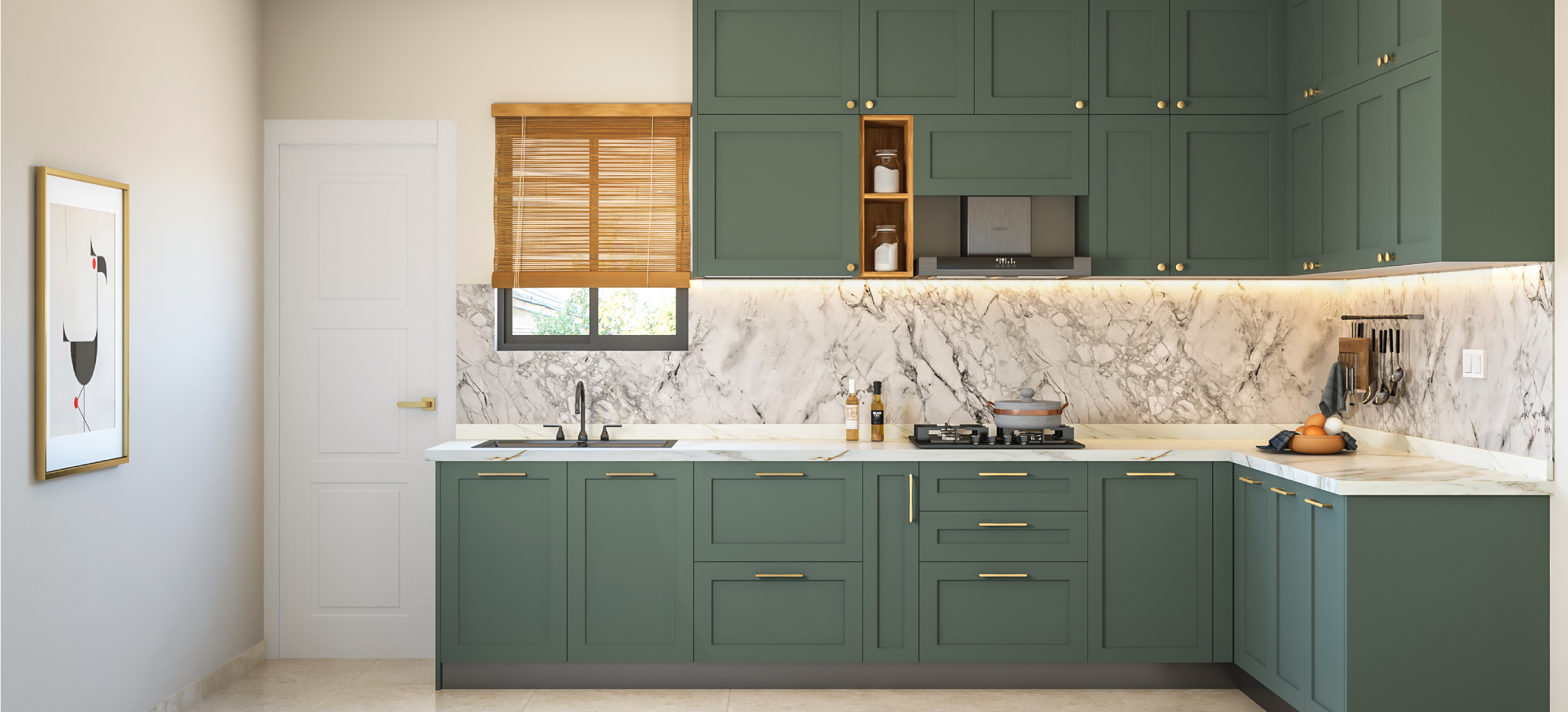 An L-shaped kitchen, which is perfect for joint families, offers lots of floor space and enables several people to operate in the kitchen at once, which not only saves time but also allows people to enjoy the activity of cooking. Thus, the spacious and open layout is perfect for accommodating many cooks working at once because it has two open ends that permit various entries and exits.
Large Corner Space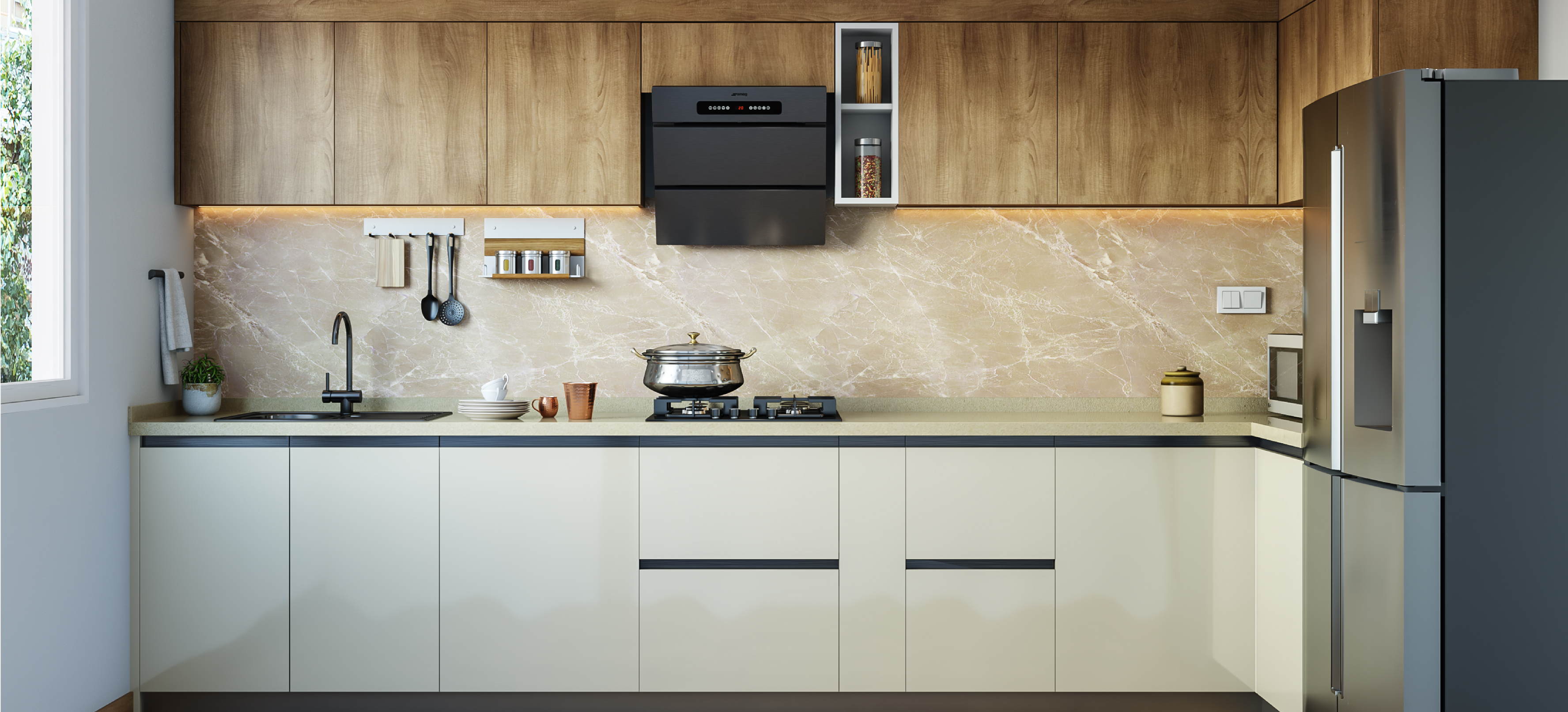 L-shaped kitchens allow for a significant amount of corner space and allow the designer to creatively use the corner space because they are built on one side of the kitchen and use only two walls. Carousel units and Magic Corner units are two fashionable and useful corner storage options for an L-shaped kitchen layout. With the first two options, you may fully utilize this area for storage. Because they swivel outward and towards you, as they open, all of the contents are easy to view and access. An alternative is the corner carousel option, which revolves in a circle and makes the cabinet's contents reachable whenever necessary.
Open Concept Layout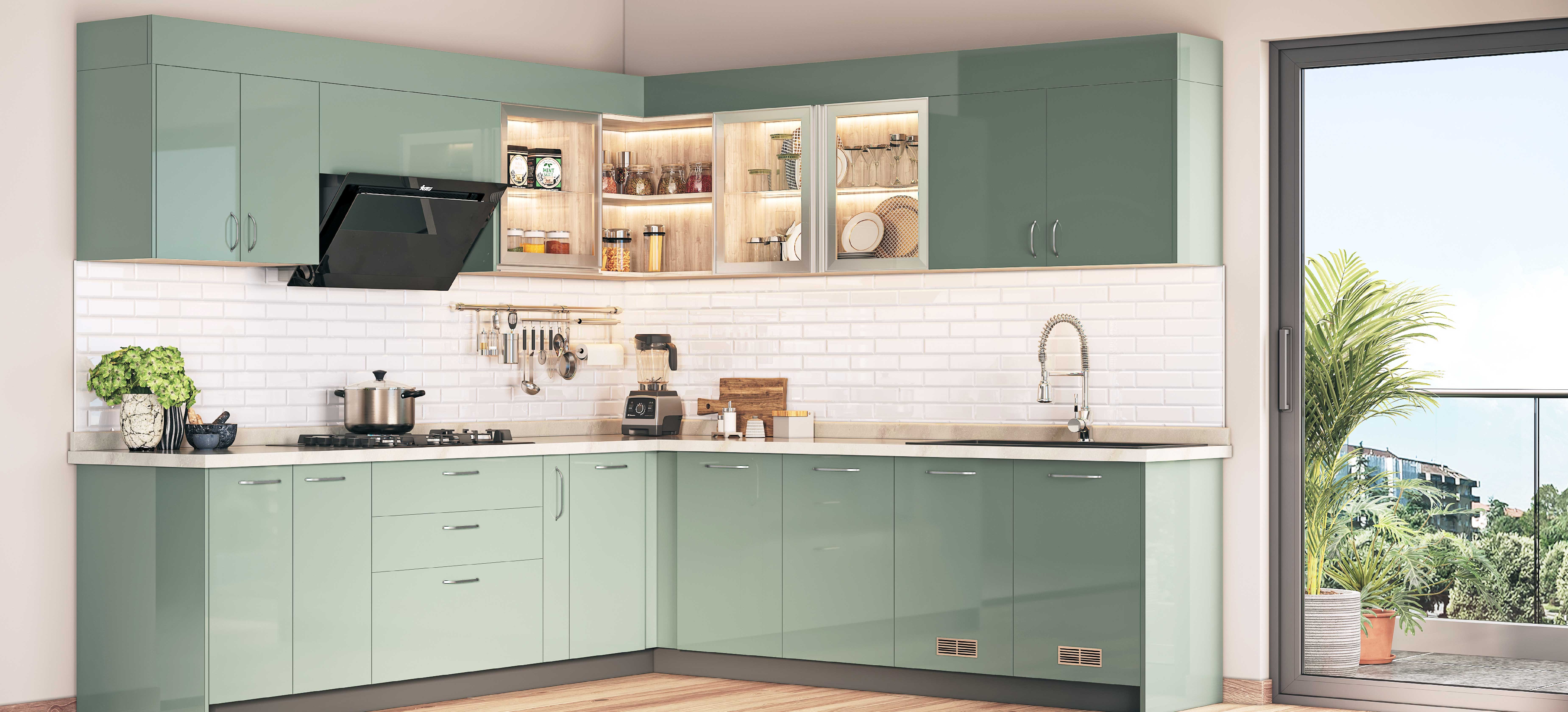 One of the most common designs used nowadays to describe any modern kitchen is this one. The work is more fluid because of the open-concept arrangement, and the family can keep in touch because the area is unencumbered. It's important to understand that open concepts are now regularly used in modern homes as a design element. Because it is thought to be the ideal design plan, a layout like this one was required. The legs' provision of surfaces and supports for your work is enough. Since it typically resembles a room where people can wander through and work, this style is seen as a flexible option. This is the reason there is a continually growing demand for house interiors with a comparable design scheme.
Efficient For Smaller Areas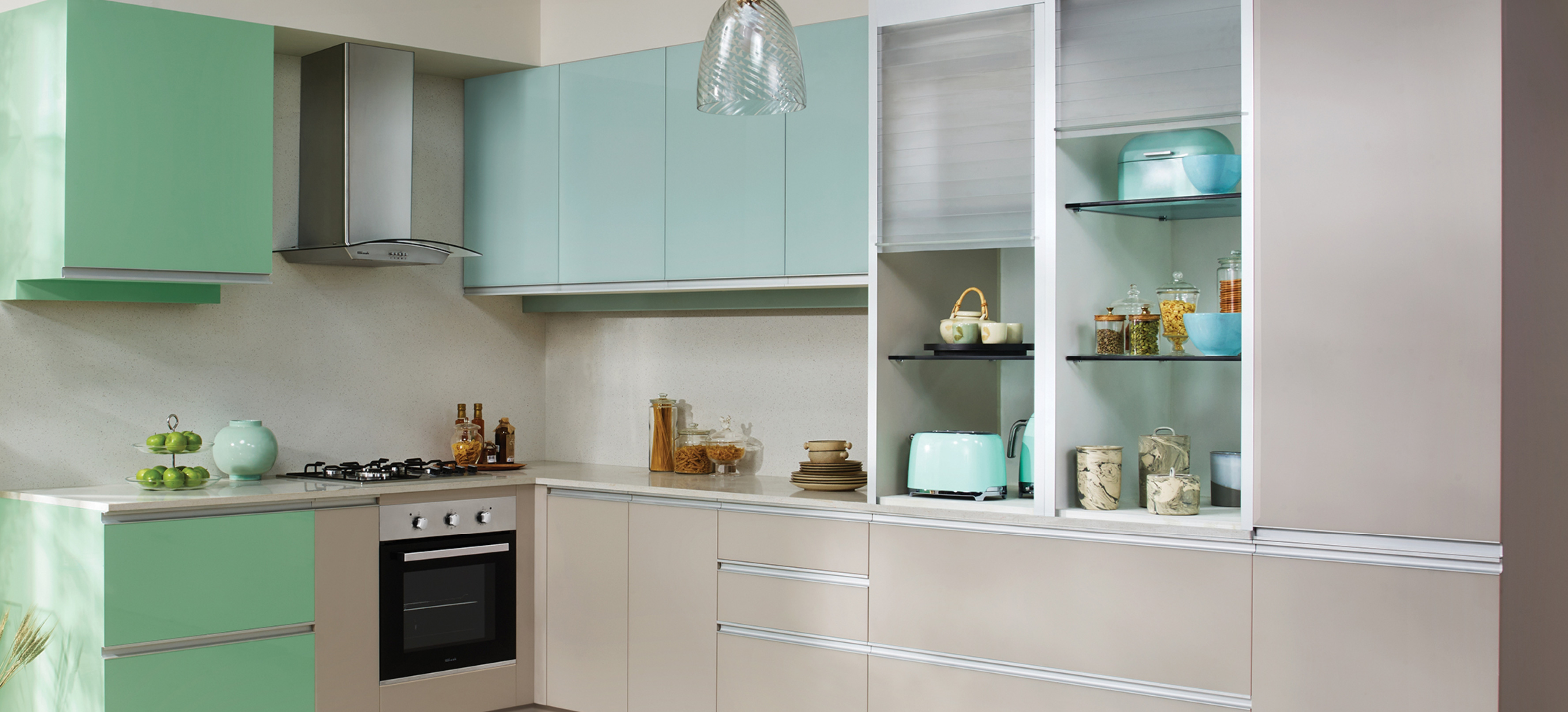 The most advantageous feature of L-shaped kitchens is that they are practical for small homes since they give the impression that the space is larger and enable more people to work together. Although not everyone has the budget for a large kitchen, this specific design works well in smaller, even extremely small kitchen areas. Is there no room for a lavish design indulgence? The L-shaped arrangement would solve this issue, provide the owner with enough room to build functional counters and storage areas, and leave enough space in the center so that you can have an island without blocking traffic.
Trouble-Free Remodeling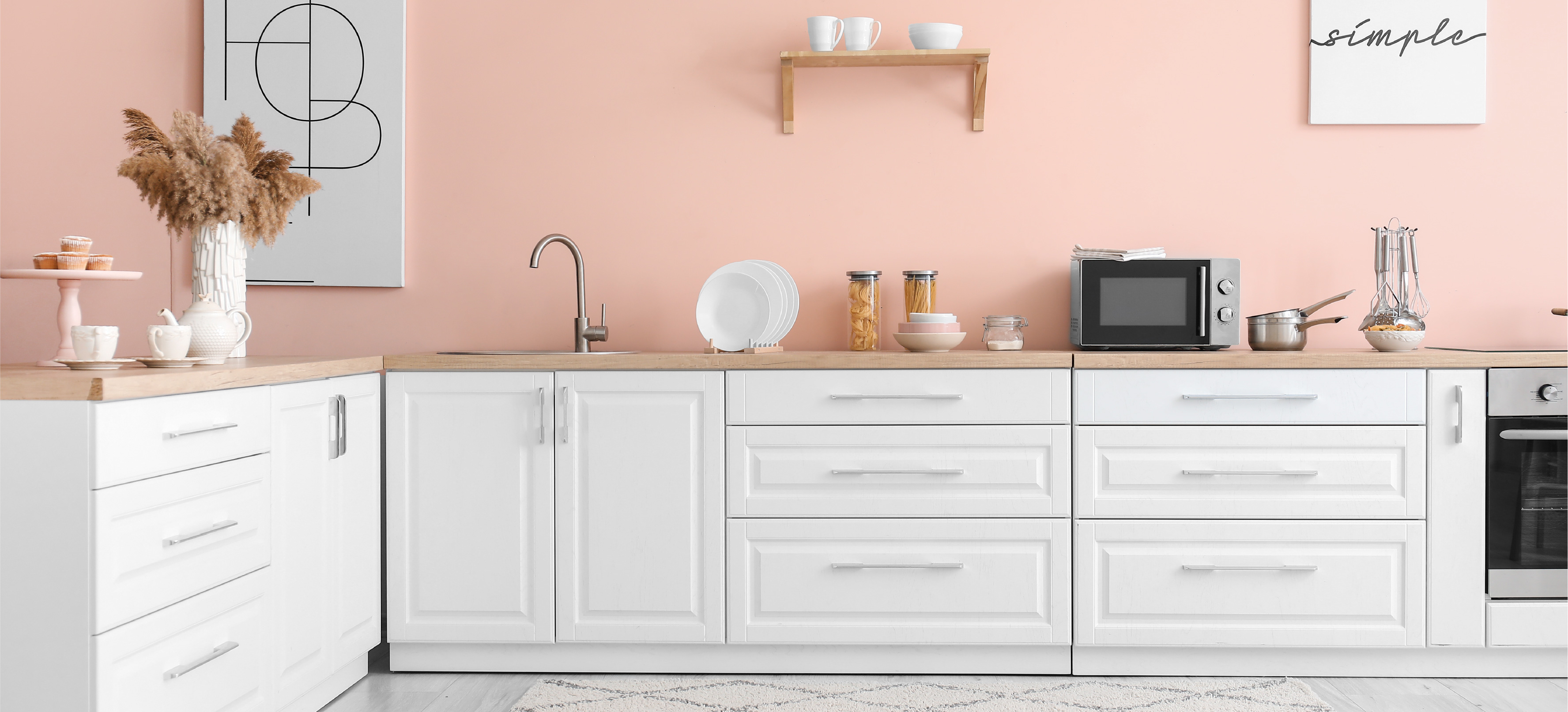 You can modify the look, feel, and design of your modular kitchen thanks to its flexibility and adaptability. This is one of the key advantages of modular kitchens. By simply changing the tiles, surfaces, or knobs on your cabinets and counters, you can alter the appearance of your space whenever you choose!
Conclusion
Modular kitchens are thus built to last since they are made of durable materials and metals that won't warp when exposed to different temperatures. These materials have also been treated to be resistant to termites and water. If you want to ensure that your modular kitchen can weather the test of time and the elements, working with an established modular kitchen design company that specializes in the sector is imperative. This ensures that everything, from conception to execution, is of the highest quality. The most cost-effective L-shaped modular kitchen designs are created by Urban Ladder.
Faq
Is The L-Shaped Kitchen Layout The Most Efficient?
Due to its adaptability and capacity to maximize counter and storage space, an L-shaped kitchen plan is a popular option. However, several considerations, such as the size and shape of the room, the needs of the homeowner, and the traffic in the area, determine whether it is the most effective plan for a kitchen. In some circumstances, different layouts, such as the U-shaped or galley plan, could be more effective.
How Do You Build L Shaped Modular Kitchen For A Small Space?
Measure the area and choose modular modules that meet the specifications to make an L-shaped modular kitchen in a limited space. Employ storage-rich cabinets, shelves, and drawers that don't take up a lot of space. Use light colors and shiny surfaces as they give the impression that the room is larger. Strategically position appliances and hide wires to maximize counter space.
What Is The Best Layout For An L-Shaped Kitchen?
Depending on the homeowner's particular requirements and tastes, an L-shaped kitchen can be laid out in a variety of ways. However, putting the cooker and refrigerator on one leg of the L and the washbasin and dishwasher on the other is a common and practical arrangement. By doing so, counter space is maximized and a natural flow of movement gets created. Use corner spaces for storage. If the area permits more sitting and counter space, add an island.
How Do I Maximize Space In My L-Shaped Kitchen?
Install shelves and cabinets to the ceiling in an L-shaped kitchen to maximize storage space. To maximize the space in your cabinets and pantry, use pull-out drawers and organizers. Use corner cabinets to make use of the space. Use foldable or sliding furniture, such as tables, seats, or doors as they maximize space. Compact or multi-functional appliances are preferable over large, cumbersome ones. Incorporating lights can make the area appear larger.
You May Like These