The ubiquitous prayer
Irrespective of our religious orientation, each one of us pines for a space in the home that is untouched by the happenings around. There's only one place in the comfort of your home that keeps most of us off the maddening mayhem – the serene prayer room which is now the worship 'corner'. 
Traditional households had the luxury of space and it was a common sight to see a mandir in a Hindu home or a miniature of a church in a Christian home.  The worship room was planned with vigour and detail as the rest of the home. 
With increasing urbanisation, it's no surprise that space has become a constraint. Dwelling spaces have become smaller and prayer spaces at homes are becoming compact prayer corners. A prayer room is an assimilation of individual and cultural ideologies. A cabinet or a wall mounting unit is the preferred choice of furniture. 
Homes are now more and more becoming a physical manifestation of one's personality. At Urban Ladder, each piece of furniture is backed by intense consumer insights, we did just that this time and here's what we found. 
Here's what 200 urban Indian homes want in their prayer unit.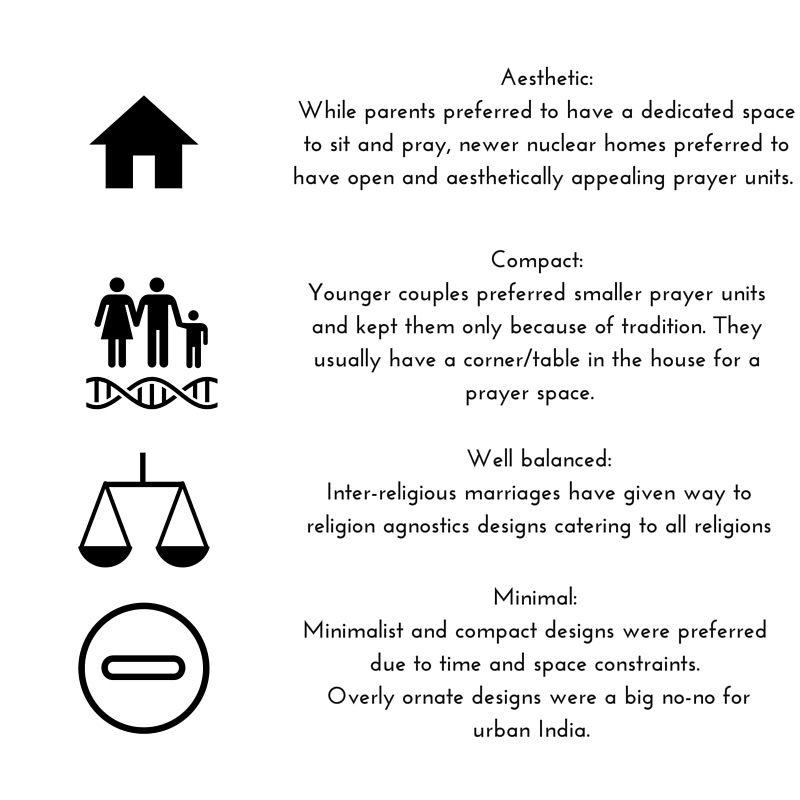 From a design perspective, it was clear, the fine line between religions are blurring. Our curated range of neutral prayer units are universal in nature and open to anyone with any belief. We believe prayer spaces today embody modernity and humanism transcending religious barriers.  The modern prayer corner is unconventional, contemporary, individualistic with no boundaries.