At Urban Ladder we take sleep seriously (Not)!
April fools is that one day when brands get the liberty to bring out their crazy side, by being smart and relevant.  We were towing around with various ideas and found the perfect one. We know working professionals are an overworked bunch, and are always looking for something that's easy to do. So we thought, why not ask them to apply for the position of a mattress tester? Heard of that before? Neither have we. To make it sound super realistic, we created a job profile on LinkedIn.
People got particularly excited after reading the "Desired Skills and Experience" section, which read: 
The job description
On a typical day, you'll need to sleep on various Urban Ladder mattresses to check for comfort and ease. Each mattress will need to be tested under different conditions, such as after consuming coffee and other caffeine-based drinks, after travelling long distances, as well as under different light and sound conditions.
Desired Skills and Experience
      Love for sleeping that would put Kumbhakarna to shame
      Strong analytical skills and an insightful bent of mind
      A good understanding of the best practices in mattress design
      A passion for product quality and attention to detail
      Demonstrated expertise in sleeping under varied conditions
      A strong customer focus
       A complete lack of enthusiasm and drive

Sounds like you? Then don't sleep on this opportunity. Send us your resume with a cover letter explaining why you'd be the perfect fit for this job to sleep@urbanladder.com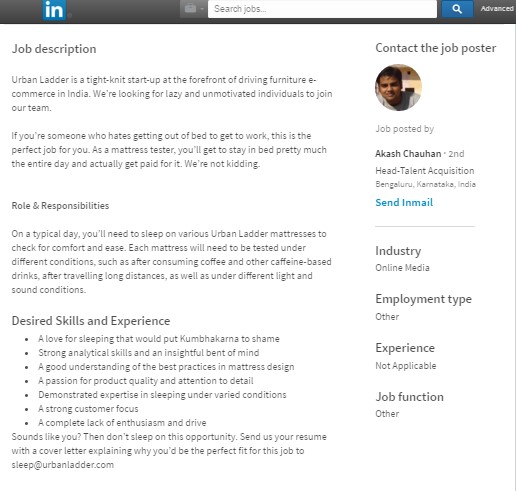 We also had websites like Buzzfeed, Scoopwhoop, Huffinton Post, The Times of India and many more run a feature on the prank on the same day. 
By April Fools', we had over 1000 applications on LinkedIn and via email - some serious, some in jest. We had several international applicants asking us if we could send the mattress to them so they could "work remotely", but were also willing to relocate if required. Applicants included co-founders of other start-ups and employees of some of India's largest e-commerce websites.
All this, without our having spent a dime on media spends or promotions.
Here are some of the tweets and applications we got :)