By Hooks and By Looks: Meet Alfred!
The golden rule of organising says that everything in life has its place. Of course, flawless interiors and impeccable space management communicate one's design sensibilities noticeably, but with our fast paced lives, not only is setting up a home a challenge, it also takes double the effort to maintain it. Back when Maya Mathew, Design Lead at Urban Ladder was graduating, she could not stop but notice how easily her room would get messier by the day. With no place for her accessories, bags, shoes and even the jeans that was barely worn, she'd pile everything up on her chair, which was seldom used for its purpose. It was then, that she identified a frantic need for a design solution to the clutter. For better insight and a precise approach, Maya along with our consumer research team visited a number of homes, bachelor pads and student hostels across the country, to bring forward subjective answers. Few of the primary problems that came forward included overflowing drawers, disarrayed floors, stacked up seating furniture and inadequate hooks behind doors.
"Having spent time closely with our customers, we understood that there needs to be a thoughtful solution to address the indefinite mess in every home."- Maya. It took Maya a couple of months to understand the aesthetic trends, along with the changing consumer behaviour in the country. With a clear design standpoint, the product needed to be a multipurpose wonder that provides users with several everyday possibilities and that's when we found everyone's super butler, Alfred!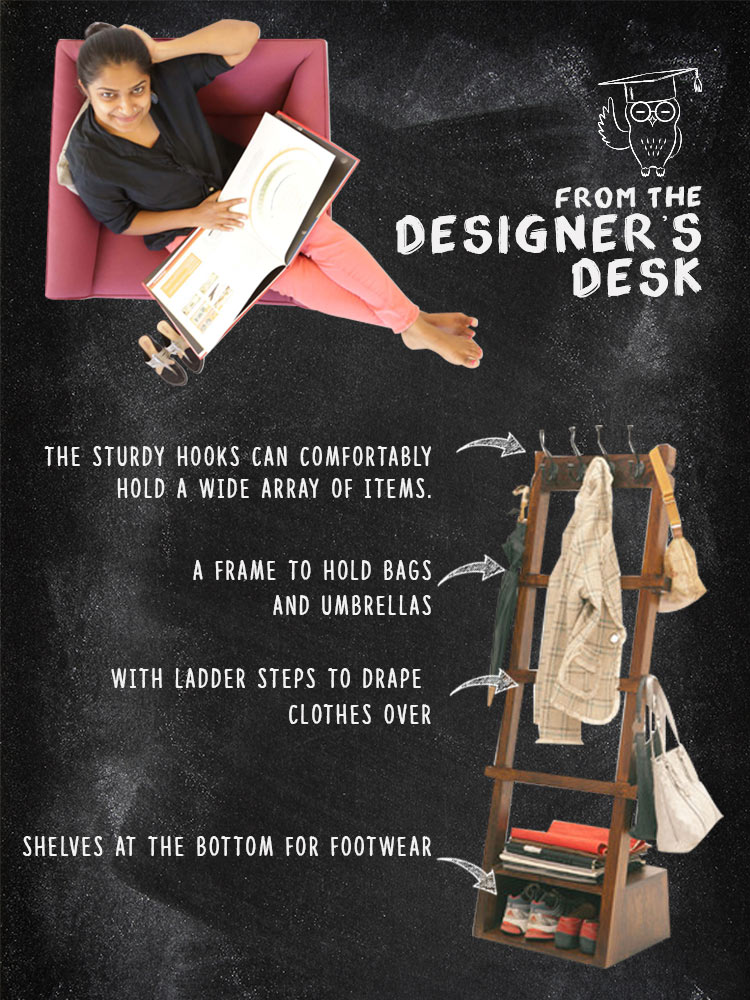 Addressing the issues brought up during Maya's interaction with Indian home owners, Alfred has ladder steps that allow one to drape clothes over, while the hooks along it are perfect for hanging bags/umbrellas. Our genius Alfred also has a shoe shelf at the bottom. Proving to be a complete team player, Alfred isn't only designed for the bedroom, it can also be placed at the entryway to welcome our customers back from a tiring day!
Inspired by Alfred Thaddeus Crane Pennyworth (Batman's butler for the uninitiated) who is probably the most reliable character in the DC Universe, The Alfred coat rack was designed to be the one who has your back for every time Every design from Urban Ladder has its own story to tell, where ace designers and artisans carefully craft every detail to cater to everyone's thought and purpose. The Alfred Coat Rack is one of the examples of a coherent story of a product design resulting from a strong use case.