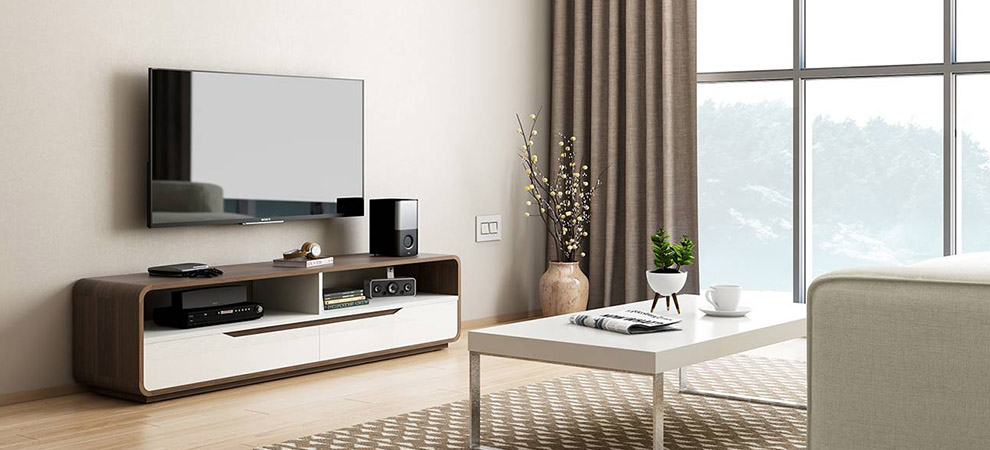 TV Units
Trending TV Unit Design and Styles
What began as a big, bulky box is now slick, slim, and the heart of home entertainment. Since its invention, the television has undergone a drastic change. Whether you're spending some quality me-time in front of the TV or watching the latest blockbuster with your family, the right TV unit can not only make your experience larger-than-life but also take your living room décor up a notch.
In many homes, the décor and seating arrangement of the living room revolves around the TV unit design. This is why, to create a sense of harmony, it is important to visualise the overall theme for the room so that all the furniture and décor pieces complement each other. But before you choose, be sure to consider all the major factors that come into play such as size, colour, and storage features. Don't forget to take into account the layout of the room and the size of your television too.
If you're someone who wants the TV unit design to be the focal point of the living room, go for a bold and modern piece that draws attention to itself. Whereas if you want the entertainment unit to blend in, something minimalistic will be a better buy. TV units are also great to store your knick-knacks. Show off your personality by using the TV unit to tuck away your favourite books, decorative pieces, collectables, memorabilia, and other odds and ends. Inexpensive and vibrant, you can also place indoor plants on the TV wall unit for some natural greenery and an earthy vibe.
Worried about the TV unit taking up too much space? We suggest you go for wall-mounted or floating ones. These are great for houses that are compact and cosy. Meanwhile, asymmetric or geometrical TV units are great if a modern look is what you're after. TV units made of wood are a perfect choice if a warm, vintage vibe is more your style. From modern TV units to contemporary TV wall units, take your pick from our wide range of functional and aesthetic offerings.
Latest TV Unit Designs & Types
Wall Mounted TV Unit Designs
Wall-mounted TV units have been quite the rage in the last few years. Apart from the fact that they don't take up any floor space, that they are easier to maintain making them popular buys. These are great if you have kids or pets around, and want to keep things out of their reach. These also offer you the flexibility of placing your television anywhere as long as you have a wall that is large enough to fit your TV. This type of TV unit furniture is a must-have if you want your space to have a sleek and minimalist look.
When choosing a TV unit design for your living room, the space available in the room is one of the significant deciding factors. With a wall-mounted TV unit design for your hall, you're free to move around and experiment with other furniture pieces. However, if you're living in a rented space at the moment, drilling holes through the walls might not be the most practical option. Moreover, wall-mounted furniture pieces are more of a hassle to move around, especially if you're not handy with the tools yourself.
A modern TV unit design that is mounted on the walls comes in two styles – with a panel on which the TV is mounted or with just floating shelves, and the TV is mounted directly on the wall. Urban Ladder has a wide variety of options for you to choose from that will enhance your TV viewing experience and make your living room look uber chic.
Low TV Unit Designs
Picking the perfect TV unit is a challenging task. For the best buy, make sure to keep in mind the height at which you would like to keep the TV to decide on the perfect TV unit ideas.
Whether or not a low TV unit will look good in your house will depend upon your TV's size, the preferred viewing height, and the seating arrangement of the room in question. Before you spend your money on a TV unit online, you must research the designs, patterns, quality of the furniture, and durability of the material. Read the description of every product you see, starting from the TV wall unit design to the style, price, finishing, as well as reviews, to buy the best available.
Although every TV unit can be decorated in the way you like it, it must be a few inches longer than the TV so that you can decorate it with your favourite items. With a low TV unit, your arrangement will only be comfortable when the centre of the screen matches your eye level when you are seated. When making the final decision, make sure to buy something that creates a sense of harmony in the space. Starting from wall-mounted TV unit designs to traditional designs and unique designs, choose from a wide range of TV units from Urban Ladder today.
Entertainment TV Unit Designs
With the advent of the latest home entertainment technology like smart TVs and video game consoles, most of us spend a considerable chunk of our time in front of our TVs. To truly enhance your television watching experience, entertainment TV units are a must-have.
Entertainment TV units come in various types, sizes, styles, and designs. They have been specifically designed to provide enough storage space to accommodate all your electronic devices like set-top boxes, DVD players, video game consoles, stereo systems, etc. They also help keep things organised.
If you enjoy binge-watching series or playing video games on your television, then our entertainment units are perfect for you. They are designed keeping in mind your storage needs and have enough space for your entertainment devices. Our modern built-in TV wall unit designs can also solve your lack of space problems. An advantage of some entertainment units is that they are easy to move around and can be easily moved from one place to another, unlike wall-mounted units. Along with utility, our units also provide an aesthetic and stunning appeal that enhances your decor.
You can go for wall-mounted TV units if space is a constraint. They will not only make your home look neat and uncluttered, but the right design can completely revamp your living room TV unit and make it visually appealing. Browse through Urban Ladder's expansive collection of TV unit images to find the perfect fit for your living room.
High TV Unit Designs
Be it streaming movies or shows, cheering on your favourite cricket team, or watching the news – TVs are central to home entertainment. As the TV has evolved into a slimmer and sleeker avatar over the years, an entire ecosystem of accompanying devices has grown alongside it. While a simple TV unit does a fine job ensuring there's a dedicated place for everything in your TV entertainment arsenal, a high TV unit quite literally elevates your viewing experience through a seamless blend of form and function.
Our latest TV unit design has room for all your entertainment gadgets, be it a set-up box, video game console, or home theatre system. Say goodbye to that rickety side-table, or a wobbly pile of books – with this TV unit you won't need any more makeshift arrangements to prop up your devices. Aside from offering safer storage space, it provides an added bonus of tangle-free cables.
The most visible advantage of this TV unit is, of course, the superior viewing angle. It is widely believed that screens should ideally be at eye-level for optimal viewing and mounting your TV higher off the floor, ensures the best, most comfortable view.
The extensive options on our LCD TV wall unit design catalogue showcases the unit's versatility – it effortlessly complements the décor of your home. Our range has a design for all your preferences, be it an elegant bedroom TV unit or a catchy centrepiece that brings your living room to life.
TV Shelves Designs
The TV has evolved from merely being a mode of entertainment to being an integral part of modern home décor. Be it the living room or elsewhere, the TV is where our gazes are fixed. No wonder the TV stand isn't just a functional piece of furniture anymore, but also an essential component of any room's aesthetic. Therefore, it is worth putting in the time to explore a TV unit interior design and find the perfect fit for your home.
Fulfilling its practical role of giving your TV and other devices a dedicated space, a TV unit for hall use can act as the centrepiece around which the rest of your furniture can be arranged. There's a diverse range of designs for all types of needs and preferences – they come in many colours, shapes, and sizes. Depending on your taste, you may want to go for a more modern and modular design or prefer something more vintage and rustic like a wooden TV unit. And they don't have to be limited to your living room either. Choose a cosy bedroom TV unit design that declutters and livens up your home. Alongside hosting your electronics, they also afford a lot of room for personal items like photographs, souvenirs, books, and if you're a little old-school, your DVD collection! It further eliminates the hassle of installing a mount on the wall and offers the flexibility of moving the TV around as you please – as long as there's a plug point available.
TV Console Designs
TVs are most definitely our windows into the world of home entertainment – from watching movies, binging sitcoms to gaming, the TV facilitates it all. It's only fair that it be given a dedicated space and that's where our TV unit models come in.
Taking a glittering variety of shapes and forms from a TV cupboard to a modular TV unit, these designs ensure that your TV is housed in a way that's safe and aesthetic at the same time. With space to host your TV and all the other devices that come with it – from set-up boxes, WiFi routers, gaming consoles, and more – these units are great at keeping your home decluttered and organised. They take care of the hassles of mounting your TV and ease away the restrictions that come with drilling it onto a fixed spot on the wall.
And their appeal is not limited to practicality alone – with a vast range of designs to choose from, you can opt for a main hall modern TV unit design and place your TV at the centre stage of your home décor. Alternately, you can go for a neat corner TV unit that moves the TV to a supporting role and gives your other installations the room to shine. Given the various options in visual form and colour, you can pick a design that best compliments the aesthetics of your home as well as the furniture pieces you have got. In any case, it's your home's brilliance that wins.
Closed TV Unit Design
Simple, minimalistic designs are what most people look for in a closed TV unit. These types of units are perfect for storage where you can keep your favourite books, magazines, toys for your children, or an easy-to-reach shelf to keep all your important belongings. A TV unit interior, be it of a contemporary style made of steel or durable metals or made of wooden furniture, should be one that can withstand the weight. Durability is the key feature, and a closed tv unit that will endure rough wear and tear conditions are the most desirable form of a TV unit.
At Urban Ladder, you can get a chance to change the way your rooms look with the help of these stylish and trendy TV units. Be fashionable but also look at the functionality when it comes to these TV storage units. Besides being the easiest way to set up your TV unit with your TV kept steady and upright, you can also decorate these stands the way you want.
The Tv unit design can either have legs, a broad base, or a single stem. These features serve a dual function - a standing unit for your TV and efficient storage furniture to hold your other equipment like gaming consoles, soundbars, DVD players, and much more.
Detailed research for the perfect TV unit will help you make the smartest choice. You will find the best TV unit design is now available at the best prices online, where you can contrast and compare different products and their features.
TV Cabinets Design
TV cabinets have gained a considerable number of followers in recent years. From their quick and efficient usage to the outstanding quality of the material used in building them, TV units have changed the face of interior design. The modern TV unit is one that is not only the perfect fit for your television but also sits beautifully against the wall. It acts to enhance the look of the wall against which you rest the TV.
The cabinets' design can be anything - from soft and soothing colours with simple and minimalistic designs to abstract and vibrant colours with unique pattern finishes against them. The perfect TV unit design can change the look and feel of your home.
From circular ends with a glossy finish, a wooden texture of a Columbian walnut colour, or a classic wooden finish - your TV unit design can be anything that you make of it. At Urban Ladder, you can choose even from the type of wooden finishing you want, for example - teak, mahogany, white, American walnut, etc.
The cabinet you choose to purchase must be the perfect piece for your room that compliments the colours, the rest of the furniture, and the décor of the entire home. A floor-standing unit with open sides works perfectly when you want to showcase the items you store. A signature designer wooden furniture with a sleek cut will blend in beautifully with your modern style home décor. You may prefer a classic TV unit with a contemporary twist. Shop different TV unit types at Urban Ladder and purchase the perfect piece of TV wall unit for your house today.
TV Unit Stand Designs
The latest TV unit designs are inclusive and varied, taking into consideration different types of aesthetics. There is no danger of not finding something that pleases you. Professionals work day and night to develop new and modern trends to change people's lifestyles, and TV units act as a significant piece of this jigsaw puzzle.
Modern style TV unit design for hall 2019 makes your homes look elegant and classy. These designs enhance the way you feel at home. Whether you are looking for a unit for wall-mounted TVs or a TV stand, it must be a design that you can decorate according to your likes. Install indoor plants and small decorations here and there to add some vibrant and contrasting textures.
Expert advice from both professionals as well as from the experienced customers will help you to find the right TV stand online. At Urban Ladder, you will find sales support services that will help you revamp your room in the best way possible. TV unit designs in the living room against a glass backdrop, for example, will give your house a décor tone that is subtle but at the same time highly elegant.
Lighter hues against dark walls and vice versa is a combination that can never go wrong. Choose exciting colours to create a visually pleasing impact on the eyes of everyone who comes home from a collection of highly-versatile TV unit products that thrives on the classic themes of customer satisfaction.
A living room that thrives on colour, contrast, vibrancy, comfort, and love needs something that will balance against them perfectly. The perfect TV wall unit is one that will engage in striking a balance in your mind, one that will calm you down and give you the level of relaxation you require. The range of impressive TV unit designs starts from wooden to other materials, each compatible with their own style of living rooms. The TV unit must be compatible with your beds when it comes to the colour and pattern in the same way it should match the colour and style of the sofa set in the lounge area.
If you are looking for TV units that will be suited to all kinds of activities, those made of wooden furniture is the best choice. You must also consider stands and units that will not only enhance the look of your home but also truly protect your TV. The unit must blend in with the existing interior design. Products that provide you with functionality, as well as style, are worth the price each time. Potential buyers will always look for deals that are impressive and pocket-friendly, but the decision that will never fail you is the one that is suited to the needs of your family.
Starting from the range of size options to colour, design, and material, you can easily find the best TV unit for your living room, drawing room, and even bedroom at the most affordable prices today. Simple to extravagant, minimalistic to large abstract patterns, a showcase for your expensive gadgets, modern fittings to classic vintage touches, find all of it at the best online TV unit website today.
You May Like These