Kitchens Designed For You
Free Design Consultation!
Book a consultation with our expert team to get started on your dream home

Thank you!



Do you know that the shape of your kitchen plays a vital role in determining how you use your kitchen? The character of your kitchen is a result of the design and finishings used. Choose from our range of modern shutters in both classic and contemporary finish.
Book a Design Consultation
Modular kitchens help you make the most of the available space by giving you plenty of storage options with a minimal footprint. Our full spread of features is available for all layouts, allowing you to create a kitchen that's built for how you use it.
Book a Design Consultation
Our kitchens are thoughtfully designed to last for years despite Indian climatic conditions, dust, penchant for oily masala cooking, and multi-user households. Every aspect of the design has been carefully thought through, from water dripping off the counters onto the shutters, moisture under the sink, the need to access multiple appliances daily, and more.
Book a Design Consultation


Water Resistant Kitchens
Back Panel Lamination
The back panels of cabinets are recessed and laminated on both sides to protect the material from moisture. The panels do not touch the wall, ensuring that dampness from the wall does not seep into the cabinets.
PVC Skirting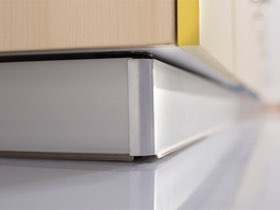 The above-floor skirting in PVC is moisture-resistant and will endure daily wet-wiping easily. It is removable to ensure that the floor area underneath the cabinets can be cleaned when required while enabling easy movement in the kitchen by virtue of its positioning.
Water Cut Granites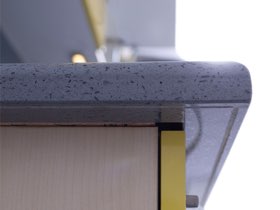 All our granite countertops are sealed, ensuring that the surface is resistant to water and heat. Plus, they are designed with watercut detailing, so in the event of spills, no water drips into the cabinets below.

Thoughtful Designs
Slats For Ventilation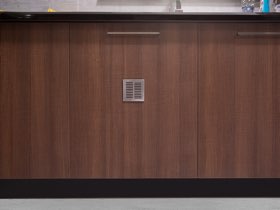 We place stainless steel cabinets in wet areas, directly below the sink, or in the utility area. This facilitates easy cleaning and durability despite the constant exposure to moisture. In addition, slats for ventilation below the sink and the cylinder unit ensure you aren't hit with a wave of nasty odors every time you open the cabinets.
Roll-up Units
Hidden but easily accessible, these Tambor units are a classy addition to any kitchen. Utilized to store daily-use electrical appliances, it comes in three color options, glass, white, and mocha. The shelves can be as practical or decorative as you want, with both glass and wooden shelves available with lighting for added effect. Not only do they keep your counters clutter-free, but they also add warmth and charm to your kitchen.
Curved Handles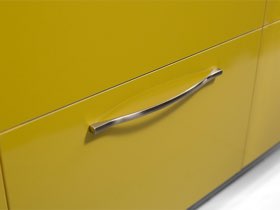 Handles with sharp edges have caused immeasurable harm, from scraped shins to torn clothes. Our solution includes kitchens with or without handles. Handle-less kitchens are achieved using Gola or edge profiles, wherein you can choose the floor and profile that gives you the desired effect. In addition, our handles have multiple finishes, including chrome plated, black, and gold, with matching knobs.

Easy To Use Worktops
Easy Maintenance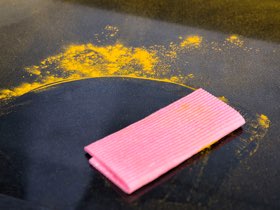 Wonderfully easy to maintain, all you need is soap and water to clean our countertops. They are also scratch resistant, which makes them perfect to use as a work surface to prep vegetables, slice fruits, and more.
Granite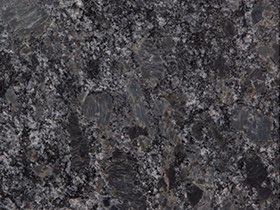 A classic choice for kitchens, granite is highly durable. All our granite countertops are sealed, ensuring that the surface is resistant to water and stains. It is also heat resistant, allowing you to place pans hot off the stove and onto the worktop without having to reach for a trivet.
Quartz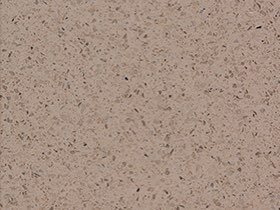 Made from natural quartz and resin, the surface is non-porous. Immune to water and stains, quartz is an ideal choice for Indian kitchens with our heavy use of water, oils, and spices.
Your kitchen starts with you. It's as simple as that. So we're eliminating harried visits to stores, and coming to you instead. Our designer will come to you, develop a brief, and suggest designs that best suit your space and lifestyle. Browse through our laminate swatches, worktop and hardware samples, e-brochures, and more, to decide on your perfect kitchen.
Book a Design Consultation

We use best-in-class materials to ensure that the most hardworking space in the house is designed for just that, hardwork. Urban Interiors kitchens are built to last. Our expert team is skilled at kitchen installations – from ensuring that doors align perfectly, to securely fixing the worktops, each unit will be fitted with an exacting attention to detail. So you are guaranteed a kitchen that is absolutely perfect.
Book a Design Consultation


Thank you!




Prabhakar
IT Professional
INTEL
"
Great customer orientation and quality-being one of the first kitchens, I was skeptical about the quality and their experience; however, Urban Ladder pleasantly surprised me with knowledge, timeliness and quality delivery at a reasonable cost as well. Value add that Urban Ladder provided was enormous-listened to us patiently, highlighted the possibilities without false promises and also demonstrated great understanding of our needs and budget and proposed options accordingly.
1. What are modular kitchens?
Modular units help you make the most of the available space, and give you plenty of storage with a minimal footprint. The same is true for kitchens as well. Designed as standardised components, each unit is made to fit together to create a whole, functional kitchen.

In fact, because the units are pre-built, modular kitchens tend to be more cost effective than custom built kitchens. Plus, since our kitchens use standardised measurements, cabinets can be changed, upgraded, or replaced without having to redo the whole kitchen.
2. Will you install the kitchen around an existing slab or countertop?
Of course. Our semi-designed kitchen units are designed to suit kitchens with pre-installed countertops. While we recommend asking your builder to not install a countertop (since it's easier to work with a completely empty space), we can also work around pre-installed countertops to design a kitchen that's just right for you.
3. Could you tell me a little more about semi-designed kitchens?
Our semi-designed kitchens offer all the advantages of our modular kitchens. Only in this case, some modifications are made to fit existing countertops. For instance:


Carcass
Whether your pre-installed countertop comes with or without a platform, we will make the best use of space. The carcass structure of base cabinets is tailor-made to the right height and thickness, to have them seamlessly blend in with existing structures.
Fillers
To reduce the amount of customisation (therein saving time and money), horizontal and vertical fillers will be added to the carcass of base cabinets. Fillers can be easily modified to fit existing structures, even when placed at odd angles.
Detachable Skirting
For semi-designed kitchens without existing platforms, we attach skirting with the help of magnetic fixtures to the carcass of base cabinets. This way, you can detach them easily without the help of a handyman, whenever you need to clean your cabinets or those hard-to-reach crevices under them.
Lesser Wood for Lesser Deterioration
The base cabinets of semi-designed kitchens use just the right amount of wood. With no back panelling, you never have to worry about water ruining the inside of your cupboards. Plus, lesser material means lesser wastage and more cost savings.
4. Will you renovate my existing kitchen?
While we do not undertake any major civil work, we can create a new kitchen for you around an existing countertop or slab, or once your existing kitchen has been dismantled. Please note, we currently do not dismantle existing kitchens.
5. Can I buy individual modular units, like tall units or an island, to add to an existing kitchen?
Unfortunately not. All our modular kitchen units and accessories are only available to customers who choose to have their entire kitchen built by Urban Ladder. We currently do not sell units piecemeal.
1. Will I be charged for the consultation with your designer?
Yes, the consultation with our designer is a paid service. The booking fee includes up to 2 designs. Please note, the booking fee is redeemable against any Urban Ladder purchase. We will email the coupon code to you once the payment is confirmed.
We will visit you with samples of shutter finishes, carcass materials (Marine grade plywood and PLPB), countertops, and more. Our designer will help you design the kitchen you want, keeping in mind the space available, your aesthetics, and existing décor (if any).
2. What if I want more than 2 iterations of the design?
We're happy to accommodate as many changes as you'd like. Post second design, 10% of order amount will be charged. You can then request for any number of changes, till you agree on a design you love. This amount will be adjusted against your kitchen order total.
3. What are the payment terms once I commission my Urban Ladder kitchen?
An advance equal to 40% of the total amount is required to book your Urban Ladder kitchen. The remaining 60% of the amount is due prior to the delivery of your kitchen.
4. What is the warranty for an Urban Ladder kitchen?

| | |
| --- | --- |
| Manufacturer's Product | Manufacturer Warranty |
| Cabinets | 5-years |
| Doors | 5-years |
| Panels | 5-years |
| Drawer Fronts | 5-years |
| Work-Tops | No warranty |
| Electrical Appliances | Manufacturer's warranty |
| Sinks | Manufacturer's warranty |
| Taps | Manufacturer's warranty |
| Lighting | No warranty |
| Hettich Hardware & Accessories | Lifetime functional warranty |
| Evershine Accessories | Lifetime functional warranty |


Please note: Any other materials included in the kitchen not listed above are also subject to warranty offered by the relevant manufacturers.
5. What does the free 1-year after-sales service cover?
Our after-sales service covers:


Cleaning of kitchen cabinets and shutters
Alignment of hinges and hardware
Refilling of silicone gel in the sink area and on the worktop for water protection

This service is free of charge for the first year. Our service team will visit you in the 6th and 11th month post installation.
6. What if my kitchen needs servicing after the first year?
We are happy to help. However, the service will be chargeable at Rs. 1500 per visit, after the first year.
1. Can I customise the kitchen design completely?
You can customise our kitchens to a large extent - we have 6 layouts and an extensive range of modular units, semi-designed units, colours and finishes to choose from. While our modular kitchen cabinets come in pre-determined sizes and cannot be customised for height, depth and width, the base-cabinets of semi-designed units are customised to suit existing countertops.
2. Do you have different themes to choose from?
All our kitchens are contemporary by design. But with our range of shutter finishes, appliances, countertops and more, you can create a kitchen that's classic, modern, or a mix of both. If you already have a theme in mind, our designer will work with you to help you bring it to life.
3. What options do you have for shutter finishes?
You can choose from laminate and acrylic finishes in a wide variety of colours and textures (for laminates). We also have glass-front shutters for wall units. All our shutters have been selected for their properties of easy maintenance and ease of use.
4. What materials are your kitchen cabinets built from?
The skeleton or the carcass of our kitchen cabinets can be built entirely from marine grade plywood–Boiling Water Resistant plywood, or a mix of marine grade plywood and HMR (High Moisture Resistance) pre-laminated particle board. Should you opt for the latter, we will use marine grade plywood for the wet areas of the kitchen, i.e., around the sink, and (HMR) PLPB for the dry areas.
5. What are the benefits of having the kitchen in BWR plywood or BWR plywood + HMR PLPB?
The benefit of both a BWR plywood kitchen, and a kitchen built with a mix of of BWR plywood + HMR PLPB is to ensure water resistance. A kitchen built entirely from BWR plywood has a higher resistance to water, as compared to a kitchen built from a mix of BWR plywood and HMR PLPB. The latter option is more pocket friendly for those looking for a cost-effective choice.
6. Are there additional accessories I can buy with the modular kitchen?
All Urban Ladder modular kitchens come with nearly infinite choices for making it a space that's the right mix of function and form. You can add mid-level accessories, tall units, drawer units instead of shelves for the base cabinets, and a whole lot more. Our design consultant will guide you through all the options possible to ensure that you get a kitchen that's just right.
Please note that we do not offer ovens, microwaves, refrigerators, and other white goods.
1. What are the delivery timelines?
Your commissioned Urban Ladder modular kitchen will be delivered within 45-days from the day of advance receipt and confirmation of final drawings
2. What are the services included?
We will take care of:


Electrical work (for installing lights in the glass-front cabinets, and lights under the wall unit. We will also shift and/ or create new electrical points if needed)
Minor civil work
Plumbing
Gas piping
Core cutting and ducting for chimneys
Granite removal (for kitchens with builder-provided slab) and installation
Minor paint work for services that require cutting, etc.
3. Is there anything that I need to take care of?
If you're looking to renovate an existing kitchen, all major civil work will have to be undertaken by you, the customer. We will not dismantle existing kitchens.
Currently, we do not offer backsplash tiling or dado services. We will not be undertaking major civil work, painting and dado tiling services.